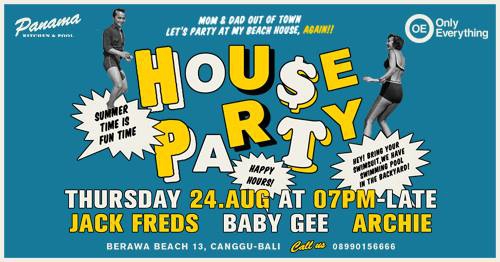 Event Details
MOM & DAD ARE OUT OF TOWN, IT'S TIME FOR HOUSE PARTY AGAINNN!

This time Panama presents Only Everything (@onlyeverything) in the house, an oz friend on vacation.

Mark your calendar,
Thursday 24th Aug at 6PM!

Jack Freds & Baby Gee (AUS), and the local dancefloor hero Archie (mr_mdrfkr) also on the deck!

So bring your friends, don't forget to bring your swimsuit, wear something tropical, pack your dancing shoes, and join the madness!
.

HAPPY HOURS
(Single Mixer Cocktails, Vodka, Sangria, Wine & Espresso Martini)
01PM - 03PM & 05PM - CLOSE.