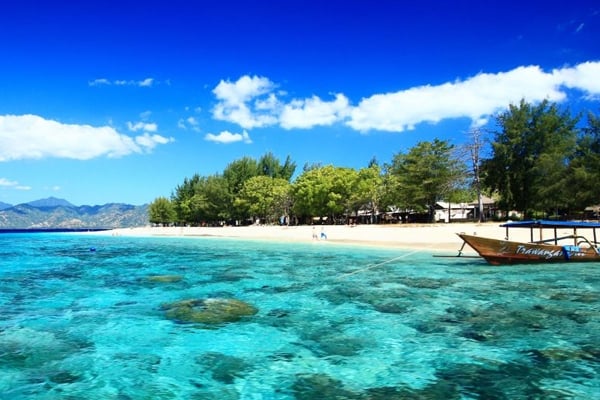 Discovering Paradise in Bali & the Gili Islands
Adventure
We came in search of peace and relaxation, the perfect wave, and a slice of unspoilt paradise...
There are over 17,000 islands in Indonesia, but Bali stands out from the rest. We came in search of peace and relaxation, the perfect wave, and a slice of unspoilt paradise. Bali has all these in spades, though we quickly discovered the key is knowing where to look.
Bali has changed a lot in the last few decades since it was 'discovered' by traveling hippies in the 1970s, paving the way for its reputation as a laid-back island paradise. Surfers followed soon thereafter, helping develop the south into a surfer's paradise. What was once jungle is now is developed into large, all-inclusive resorts, each of them marketing their own particular brand of paradise. It was hard to know where to start.
Luckily, our local My Guide reps had some recommendations: they helped us find a slice of tranquility at the Alila Ubud Bali, an understated eco-resort tucked between rows of rice paddies and a lush jungle valley. After five months on the road it was the perfect place to unwind and regain our energy.
We began with one of their signature massages: an ayurvedic oil massage followed by traditional Balinese massage, after which we would have been ready to collapse into bed had it not been for the evening's cultural activities. All afternoon, the hotel staff had been spigot-roasting a pig and cooking up a local feast, which was served at dusk along with a performance of traditional Balinese dance.
It would have been easy enough to spend all week lounging by the infinity pool looking over the jungle, but Bali's fascinating culture awaited in Ubud. We took off on motorbikes and headed for Goa Gajah temple, where we witnessed pilgrims from across the island gathering to pray to the Hindu god Shiva, then took a quick jaunt through the Monkey Forest, where we narrowly avoided being attacked by roving packs of primates.
We escaped on motorbikes and drove to the iconic terraced rice paddies of Bali. Known as the subak system of irrigation, this ancient method for maximizing harvests of rice on this small but mountainous island is today one of Bali's main tourist attractions. What we didn't expect, however, was to find the local rice farmers charging tourists to pose for photos! It made us realize how much the presence of tourists had affected the island's way of life.
It was time to see another island, so we crossed the seas to the Gili Islands, an archipelago of three relatively undeveloped islands off the coast of Lombok. There we met the reps from MyDestination Lombok and Gili Islands and checked into the Nirwana Guest House, a quiet retreat just off the main drag.
Gili has become known for its wild parties, so the first thing we did was check into a booze cruise with Drunken Monkeyz, who took us and about fifty other young people on a five-hour tour of the islands. The sun was shining, beer was flowing, and we spent the afternoon dancing with beautiful people into the sunset.
The next day we woke up to go scuba diving with Big Bubble Dive Shop, who took us out to Shark Point to dive down to the coral reef and check out the local aquatic wildlife: leatherback turtles, white-tipped reef sharks, cuttle fish and much more.
The island was extremely relaxing, but eventually we had to get back to civilization in Bali. For the second half of the week we based ourselves in the southern tip of the island, starting with the Harris Hotel in Jimbaran. It was well-suited to explore the surf breaks around Uluwatu and Balangan Beach, as well as the famous "kecak" or "monkey dance," an adaptation of traditional Balinese dance very popular with western tourists.
Our final two days were spent at the Grand Mirage Resort & Thalasso Bali, an all-inclusive resort where our accommodation included three meals a day and use of their water-sports activities. We took a couple of rides in their "flying fish" ride – an inflatable raft dragged behind a boat at 60 km/h until it starts flying about five meters above the water! We also indulged in their Thalassotherapy spa treatment, which used ocean water for both aqua-aerobics and a water-based massage.
Bali was a much needed week of relaxation, but after a week it was time to move onwards to our sixth and final continent: Australia.