January 2018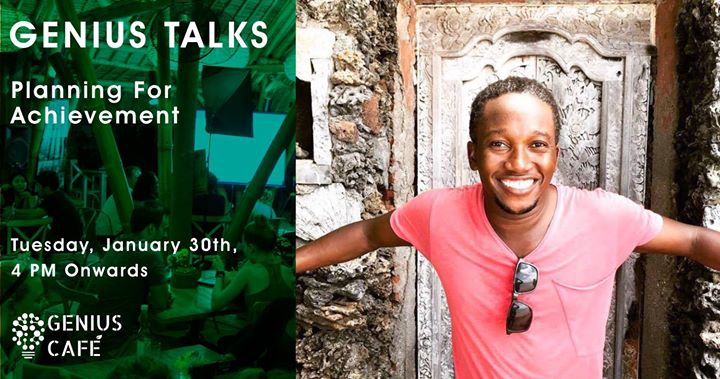 Genius Cafe, Home to the Entrepreneur Beach Club presents Genius Talk: Planning for Achievement with Aaron Mashano, Tuesday, 30th January 2018....
Genius Cafe, Home to the Entrepreneur Beach Club presents Genius Talk: Planning for Achievement with Aaron Mashano, Tuesday, 30th January 2018.

--> DISCOUNT ON FOOD & DRINKS DURING THE EVENT <--
- 50% for Indonesians & GC members - 30% for ALL! -

The Talk:
Regardless of whether you have an idea, you were not satisfied with last years results, or you want explosive results in this year, this planning workshops is for you. Discover how to set REAL goals that you can achieve and why your business plans haven't worked in the past.

The Take Aways:
- Why old goal setting doesn't work for Startup Entrepreneurs
- Techniques on how to create, plan and execute on goal
- Difference between activity and productivity
- Why business plans dont work, but also get a Fool-Proof business tool that does
- Clarity of your business structure and next steps

The Speaker:
Aaron is the Founder and Head Coach at Start Results. He was born in Zambia, later, moved to Australia to study Law and Commerce at the University of Sydney. While studying, he set up numerous successful business ventures that enabled him and his clients to live more successfully and make a bigger difference in their communities. During this time, Aaron recognized that the level of his success was a direct result of his ability to help others succeed as well. Helping start-ups to be successful companies is not just his passion, it has become his calling.
Aaron has Founded 3 other companies and has consulted for organizations like FAIRFAX MEDIA, OPSM, NAB, The Red Cross, Mission Australia and Jesuit Social Services. More recently he partnered up with Top Tier Coworking Spaces like Hubud and Impact Hub, coaching numerous Upstarts at Google Startup Incubator Events. He has also been invited to keynote at corporate events - sharing stages with Top 500 Companies like COLES, WOOLWORTHS, KFC and Government Leaders. Aaron currently dedicates his time to making an impact across his; Social Enterprises, books, audios, workshops, consulting and angel investing.

About Start Results Coaching:
Start Results is Singapore based, Online Startup-Coaching Business focused on giving Entrepreneurs time-tested guidance on how to build a startup successfully from Scratch. WE achieve this by utilizing the SRM Coaching Model that has worked for over 400 Startup Founders across 4 continents by combining 3 things: A REAL accountability partner (your dedicated SR accredited coach), proven simple startup tools and a tailored coaching program that results in traction in your business efforts.

Also check:
www.lotprofit.com
March 2018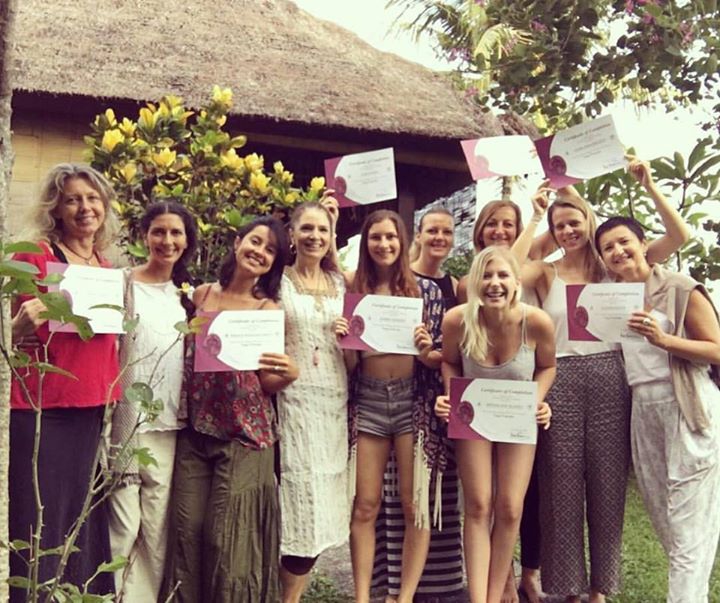 200 Hour Intensive Yoga Pranala Teacher Training Yoga Alliance Certified...
200 Hour Intensive Yoga Pranala Teacher Training Yoga Alliance Certified

22 March - 13 April 2018 – 22 Day Training
Save US 0 with the EARLY BIRD DISCOUNT PRICE available till 22 January 2018!

ONLY 9 SPOTS LEFT!! HURRY UP BOOK YOURS TODAY!

~ Yoga Alliance fully qualified with international recognition

~ 8th-year running program

~ 100 + training graduates

~ Internationally renowned team of yoga teachers

~ Inspire others to a better life

~ Balinese initiation ceremony

~ 22 days in our stunning Bali sanctuary retreat with open air shala

~ Accommodation & meals included
~ REFUND Policy available

~ FREE 1-year follow-up program for the graduates

~ EXCLUSIVE access to the Yoga Pranala Community

The reviews of the graduates on Yoga Alliance website
https://www.yogaalliance.org/SchoolProfileReviews?sid=1584

Yoga Pranala -- Self-Healing Balinese and Traditional Yoga


Spend 22 days with us on Bali, the Island of the Gods, learning ancient Balinese self-healing techniques in combination with popular and less known yoga practices.

Our Yoga Alliance certified teacher training is internationally recognised, giving you the opportunity to teach the power of self-healing through yoga around the world.

During training you will enjoy
- Comfortable accommodation with delicious local and international meals
- The support of our experienced teachers
- Daily intensive training combining theoretical, practical, individual and group knowledge of Yoga Pranala, Hatha, Vinyasa, Pranayama, Mudra, Aruveda, Philosophy and more
- Balinese ritual as you explore and immerse yourself in the rich local culture

This training will not only change your life but is also a profound spiritual journey and cultural adventure.

Next trainings are in March and July 2018!

Limited spaces available

http://www.intuitiveflow.com/training/200-hours-yoga-teacher-training/

e-mail contact@intuitiveflow.com
September 2018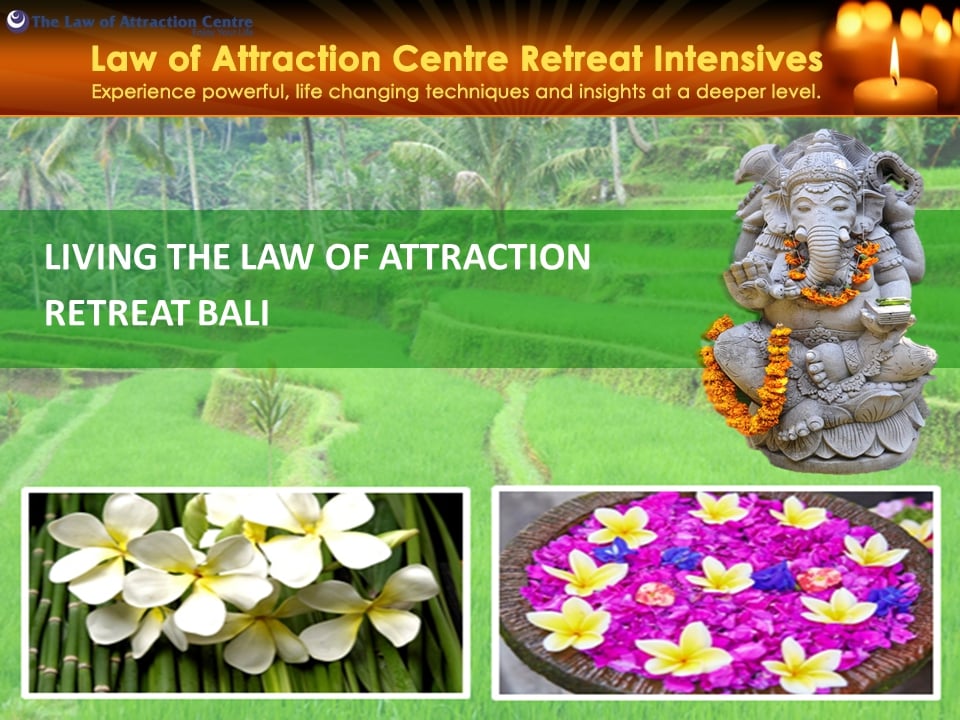 Tracy Friend, co-founder of the Law of Attraction Centre will share what she has learnt and pioneered through facilitating hundreds of events across the UK, Europe, US an...
The beautiful location of Ubud in Bali where spirituality permeates every aspect of daily life, provides the perfect location for the 'Living the Law of Attraction Retreat' which will offer insight, the opportunity to awaken to new possibilities and help you learn how to use the power of thought to come into greater alignment to increase well-being and create the life you choose.

Tracy Friend, co-founder of the Law of Attraction Centre will share what she has learnt and pioneered through facilitating hundreds of events across the UK, Europe, US and Asia over the last decade, about what works when applying the Law of Attraction.

With simple and transformative processes including written exercises, visualisation and meditation, you will empower yourself with a proven practical approach to personal development.

Tracy's pioneering presentation delivering The Law of Attraction Centre technology is optimistic and soothing, whilst bringing empowering results on all subjects. Inspiring, comprehensive handouts will be provided.

There will also be free time to relax and to explore and experience Bali.

Key Benefits of Attending:
> Learn the principles of manifestation
> Learn a program of powerful, practical techniques to utilise to create more of what you want: abundance, improved relationships, health & well-being or any other desire
> Determine how to incorporate the Law of Attraction into your daily life
> Establish new patterns of thinking
> Take time out from your usual routine to devote time to yourself
> Derive more pleasure and satisfaction from life
> Meet and connect with like-minded people
> Let go of any negative thought habits that have been hindering the achievement of your dreams and ambitions
> Discover how to find more meaning in your life or a greater clarity about what you want
> Deepen your spiritual connection and your connection with your true self

The retreat is suitable for you whether you are new to the principles of the Law of Attraction or you have already begun to apply them in your life.

Retreat Programme:
Daily Morning Meditations: 8.00am – 8.30am (optional)
Workshops: 10.30am – 1.00pm

Sunday 23rd September: Arrival
Monday 24th September: Workshop- Welcome and Intentions, Welcome Lunch
Tuesday 25th September: Workshop- The Art of Alignment
Wednesday 26th September: Water Temple visit
Thursday 27th September: Workshop- Living in Love
Friday 28th September: Workshop- Visualisation and the Law of Attraction, Silent Meditation Waterfall Walk at Sunset
Saturday 29th September: Workshop- Insights and Implementing the Law of Attraction in Your Daily Life, Group Lunch
Sunday 30th September: Departure

Retreat Includes:
> 16 Hours of Programme Time
> 5 Law of Attraction Workshops
> 7 Morning Meditation Sessions (optional)
> 1 hour Meditation Waterfall Walk at Sunset (optional)
> Proven Written Techniques
> Visualisation
> 7 Nights Accommodation at Narasoma
> Comprehensive Hand-outs
> Breakfast 7 Mornings
> Swimming Pool
> Visit to the Balinese Water Temple Tirta Empul
> Welcome Dinner on the First Evening
> Closing Farewell Lunch
> Transfers to and from the Airport

Not Included/ Optional Activities Available Locally:
– Flights
– Visa/ airport fees
– Travel insurance
– Lunch and Dinner (apart from lunch on the second day and lunch on the second to last day)
– Spa treatments
– Local tours such as visiting temples and hot springs
– Balinese dance performances

About Narasoma:
Narasoma is a purpose built private retreat centre set in peaceful, beautiful gardens. It is also centrally located in Ubud within walking distance of the many shops, spas and restaurants. Narasoma has a warm, friendly atmosphere and provides a personal service.

The traditional Balinese styled bedrooms with decorative woodcarvings are spacious and have ensuite bathrooms. Fans and air conditioning are available in each room. There is a choice of private or twin share rooms.
There is an open air 'tea house' overlooking the swimming pool where you can purchase drinks and there is also a spa.
The workshops take place in the traditional wooden Balinese roof top studio with views over rice paddies, coconut palms and mountains.

A healthy buffet breakfast is included.

Free Wi-Fi is available.

About Ubud and Bali:
On the beautiful island of Bali also known as 'The Island of the Gods', spirituality is integral to Balinese culture with it influencing every aspect of life. The Balinese believe that balance comes from living in harmony with other people, nature and spiritual energy and this is reflected in the beautifully tended rice paddies, the vibrantly coloured offerings of flowers, rice and incense and the warmth of the people.

Ubud which is located amongst rice paddies is the spiritual, creative and cultural centre of Bali and was also featured in Elizabeth Gilbert's book 'Eat, Pray, Love'.

Ubud offers a wide choice of places to eat from warungs (local eateries) to cafes and restaurants serving vegetarian, vegan and raw food.

There are also a large number of spas offering massage and holistic treatments.

Booking:
The price of the retreat per person is £895 before 01/04/18, £945 after.
A deposit of £475 is required to secure your place and the outstanding balance of £420 is due 12 weeks prior to the event.

About the Law of Attraction Centre:
Established in 2003, The Law of Attraction Centre is the largest and most inspirational community of 'Living the Law of Attraction' in Europe and a leading force for positive change in people's lives. With its base in London, UK and other communities around the UK and internationally, it today has over 6,000 members focused on the study and practice of the Law of Attraction, with over 1,000 groups and events having been organised to date.

Through proven technology delivered through seminars, talks and products including books and CD's, The Law of Attraction Centre's objective is to share tools that encourage self-empowerment, improving the quality of people's lives and helping change the world for the better.

For more information and booking, please see: http://www.lawofattractioncentre.com/law-of-attraction-retreat/