My Bali Holiday
Adventure
Angela Quarrington + daughter Lucy had a ball in Bali
Angela Quarrington from Australia contacted My Guide Bali about the itinerary for her trip with daughter Lucy, and we gave her some hints and advice. Here are some of her tips if you intend holidaying in beautiful Bali.
My Top 10 Tips
1) Take the round boat trip with the company called
Scoot Cruises
if you want to visit
Lombok, Gili Air, Gili Trawangan
and Nusa Lembongan. For only $130 AUD per adult, round trip. Not a bad price for five sailings. There are cheaper boats, but with Scoot, I felt safe, and it was reliable, and when you don't have much time, reliability is even more important. We only once set off late from our destination, as a result of passengers being held up in hospital. Scoot can even pick you up from your hotel. They picked us from
Candidasa in East Bali
and took us all the way to Sanur to get their "fastboat"! They can also drop you off at your hotel on arrival, at no further cost. 
2) Stay longer.  We visited the whole triangle of outer islands of Bali and Lombok in one week: not enough time to do them justice, especially Lombok, where the beaches are so clean and uncrowded, unlike Kuta Bali; and the interior is so green. And it's so easy to get around Lombok either by motorbike—hire one yourself if you're careful, but the roads looked OK, as far as I could see—or by the Bluebird taxis that charge by the meter. We drove around the north end of the island for about two hours for only AUD20, with a really informative driver! You can also visit Kuta Lombok (for surfing), and The Pink Sands Beach, and maybe even take a 3 or 4 day sailing ship to Komodo and Flores, if you have time and it's the right season. 
3) Next tip: Stay longer on Gili Air particularly. And truly relax. On Gili Air, you can sleep practically on the beach, well not far from it, whereas on Gili T, you have to stay further back in town as it's mostly cafes and restaurants along the beachfront. We tried spotting turtles from our beach bungalow, where they are supposed to swim by, but you have to be lucky to see one, because turtles swim alone, and not in packs. There's still some nice fish, and patches of coral, to see, but for only ten dollars, with fellow snorkelers, we recommend the boat trips.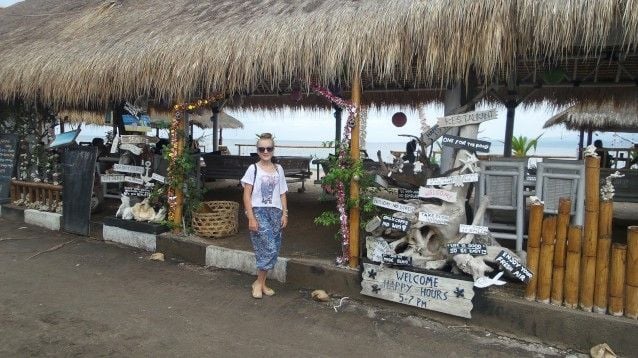 4) Talk to the local guys who work in the various bars, beach houses and cafes. They are so friendly and often speak good English. They work from 8 am to 10 pm and still have a smile on their face at the end of the day. 
The only down side: the constant Bob Marley tapes being recycled in the evenings. But at least the music stopped by 10 where we stayed. For us, Gili T was just too busy. As the Western guy at the local dive centre said: Gili T was like Gili Air 10 years ago.
5) Bring your own snorkel and mask from home, and hire the flippers locally. The masks for hire nearly always leak.  And watch out for coral cuts on your feet: mine still haven't healed a month later. Don't forget to take some iodine and band-aids with you!
6) Go snorkeling in
Nusa Lembongan
. We did get to see a Manta Ray, which made up for not seeing a turtle, in between Lembongan and Ceningan – it was about 3 metres wide—and yes with just a snorkel (which did leak a little). But it's very special to see even one Manta at this time of year (late Dec) and without diving! 
6) Take the time to appreciate the beautiful Balinese culture: the amazing gardens, shrines, and offerings, the colour and the extravagance in contrast to Lombok, which has a Muslim culture, and more plain in comparison; and then following on to Nusa Lembongan, which some say is Bali without the crowds. 
We stayed in the moderately priced Lembongan Village, where there seemed to be a profusion of inexpensive restaurants selling really tasty local food. 
7) Explore Lembongan and Ceningan by motorbike. Either by hiring your own—very cheap but be warned, the roads can get bad in some places—or asking someone—and paying them of course—to drive you around on the back of their motorbike (called an ojek) and truly to relax, and see some amazing pristine beaches. Ask to see the underground house! How that man carved it out of hard ground is a miracle!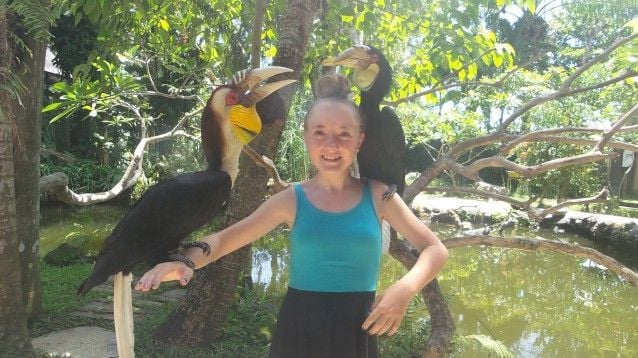 8) Stay in Semarandana guesthouse in Jl. Danau Tamblingen in
Sanur
, where there are some really nice shops, and a GREAT night market where you can eat really tasty local food for just a dollar fifty AUD. (yes $1.50) I don't usually endorse accommodation, but Semarandana was the nicest place I stayed in the whole of Bali and Lombok.
My Guide Bali actually recommended it to me: and what a find. Brand new, elegant, modern and traditional in style, with such a feeling of tender loving care that has been put into creating it; that you feel nurtured just by staying there. From the groovy wooden furniture to the beautiful slate lined pool that had the most gorgeous frangipani tree gracefully arching over it—and lovely people all around. 
9) Later in the trip, when we had to stay at the more expensive end of Sanur—because I had already booked it in Melbourne before I discovered Semarandana —we found that although the accommodation was not as nice, this end of the Sanur Beach was amazing: pristine, uncrowded, and lots of fun with all the inexpensive water sports (near the expensive hotels).
10) Have a Flu shot before you go! I came down with something nasty from the airplane on arrival, and had a hard time shaking it off, which also played havoc with my ears with all that snorkeling—and don't forget to take ear plugs too—the waterproof type. Oh. And the rainy season was only really a problem in
Ubud
, where it rained every day, after midday. The rest of the time, it was often cloudy, but personally, I liked it because it offered relief from the blazing sun! And at least in the rainy season, there are less tourists, except for the Aussies who flock there after Christmas.