Ten Days in Sanur
Family Fun
Peaceful Sanur is a family-friendly village
Our Top Experiences and Tours in Bali:
If youʻre booking your trip to Bali last minute, we have you covered. Below are some of the top tours and experiences!

If Kuta and Jimbaran are renowned for their sunsets, then Sanur, in southeast #Bali, is surely the place to see glorious sunrises on a beautiful sandy beach. Here, every morning, one can witness the start of a new day in the life of Bali.

The "first tourist resort in Bali" still maintains a laid-back atmosphere, making the village of Sanur a unique seaside experience, where hospitality mixes with the traditions of #Balinese culture and religion; where people still join their hands and bow when they offer their services, whether they be restaurant hosts, hoteliers or waitresses in beautiful native uniforms. The atmosphere, from sunrise to sunset, is one of discovering the lives of the local Balinese, as they present their village to visitors: from plush hotels to collections of market stalls, in the main street or down at the beach.

Shady trees along uncrowded pavements make walking and discovering Sanur a pleasure, as I discovered in my ten days there in December. Bicycles may be hired at many of the hotels or hire shops, but I saw more by just walking up and down Jalan Danau Tamblingan, (Lake Tamblingan Road), the "main drag" of Sanur. Here were a variety of shops, restaurants, hotels and homestays, almost every one with a Christmas tree. The options are endless.

Most restaurants have stands out front displaying their menus, so one can choose by variety and price, from barbeque steaks to Italian to Balinese, Indonesian and Thai dishes. When comparing prices, look at the bottom of the menu and see if 10%  tax + service charge is applied. This pushes the price up a bit more, especially at the more expensive venues. The less pricey ones seem to charge only the quoted price.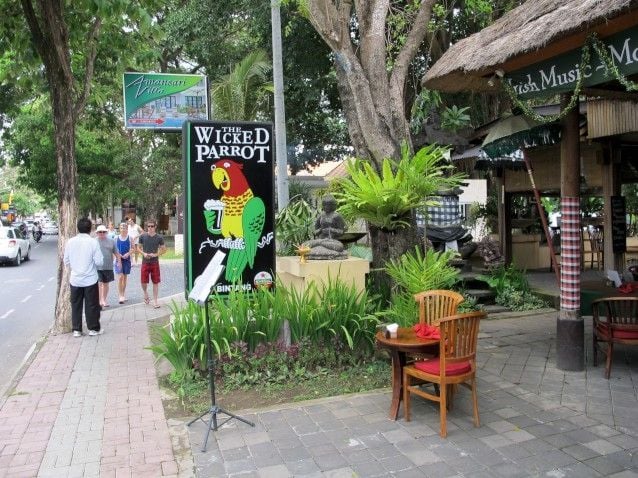 To say that Sanur is an ideal family village is an understatement. Kuta and its white beaches became famous for the rolling surf, drawing wave riders from around the world. Sure, many families go there, as witnessed by the crowds - and the night life is legendary. But if you are looking for a quiet family holiday, Sanur's waters are the safest in Bali, so young children can play on the beach and in the sea without parents having to be constantly on the lookout. The reef some couple of hundred meters offshore keeps the waves low enough for toddlers.
And then there is the Promenade, 4 km of paved walkway from South Sanur's Mercure and Sanur Beach Hotels to beyond Inna's Grand Bali Beach Hotel - the first large tourist hotel in Bali, built right beside the home of the couple who began Bali tourism: Belgian artist Adrian-Jean Le Mayeur de Merpes and his beautiful Balinese wife Nyoman Pollok. 
Known as Ni to friends and admirers, the former dancer was Le Mayeur's model before becoming his wife at age 18, and between them they invited fellow artists from around the world to experience Bali. Their friends told other friends, and so the legend of the Emerald Isle of Indonesia was born.
"Sanur" comes from two words, "Saha" and "Nuhur", which literally means the passion to visit. Truly, Le Mayeur and his lovely wife really put Bali on the travel map through their passionate love for their special island. Le Mayeur's "postcards" were the paintings he sent off around the world under visitors' arms.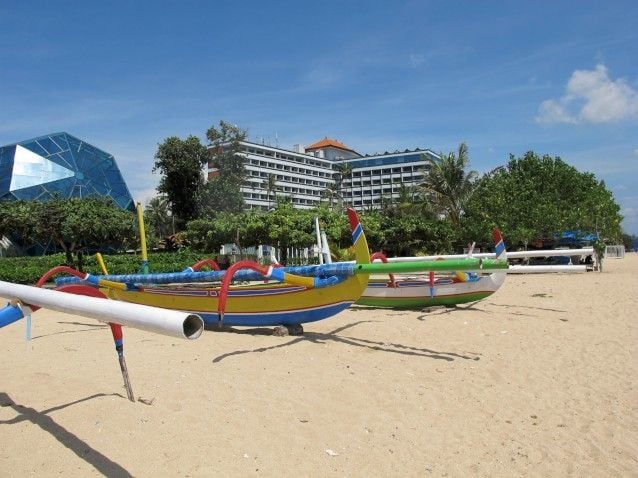 Their home, built in old Balinese style, is now a museum housing some of his work. A modest entrance fee is required – IDR10,000. Some of the paintings are beginning to deteriorate because of the sea air, but the legend lives on – two busts commemorate the couple who made Bali famous. A little note to large people – the doors between rooms were made for slim little Balinese to pass through. For larger people, moving between rooms requires going in and out through main doors, and the step-overs are not wheel-chair friendly, even though the ramp at the entrance makes one think it they might be. The garden is worth a visit, neat, cool and flat.
The beach in front of the museum and Bali Beach Hotel is the widest and softest. Restaurants and little shops spill out onto the sands here, as along most of the 4-km walk. Many are set up under beautiful shady trees, where colourful jukung boats rest when not out on fishing trips, or taking tourists out to sea.
I suppose one cannot get away from the trees of Sanur, but they are at their best in some of the hotel grounds, most notable being the Bali Hyatt, with over 600 varieties of fauna and flora (unfortunately closed for restructuring, but worth a look over the wall). Other hotels try to keep up with their example. The grounds of almost every hotel I entered were a new example of horticultural splendour, from huge old trees and flowering frangipanis to the bamboo avenue leading down to Bali Pavilion bungalows.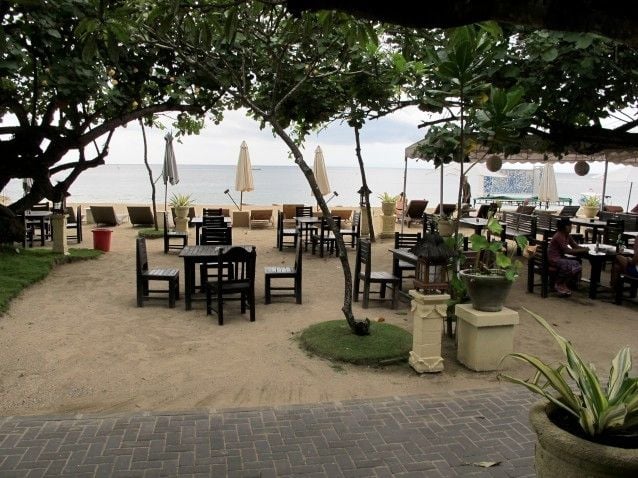 Accommodation in Sanur varies from the 5-star Sanur Beach Resort, Mercure and Puri Santrian in South Sanur to Inna Grand Bali Beach in North Sanur, through 4- and 3-star establishments, bungalows and villas for rent, to "homestays" for as little as IDR125,000 to IDR200,000 per night (depending on whether one wants air conditioning or fan).
There are many little convenience stores and a large Hardy's Supermarket stocking a variety of food and locally-made clothing and footwear. Pharmacies or Apoteks are well represented, with plenty of sprays and creams for sunburn and the inevitable insect bite – let's face it, Bali IS in the tropics, so take precautions. I found the best stocked, with the most knowledgeable staff, to be Guardian Apotek.
What to do besides walking, cycling, eating in any of the more than 60 bars and restaurants, or lazing in the sun? Many water sports are on offer via the hotels or in shops along Jalan Danau Tamblingan. Several diving businesses are headquartered along this road, or Bypass Ngurah Rai. The calm waters of Sanur are a good spot for beginners and snorkellers. More experienced divers go further north to deeper, more interesting spots.
At certain times of the year kites take over on Sanur Beach, mainly during the Sanur Kite Festival in April, and kite surfing is also popular along the shoreline.
Kayaks and surf boards are stacked up for hire. Kayaking is safe here, but surf is beyond the reef. Motor launches leave regularly, from just below Jalan Hang Tuah, next to the big T-shaped Inna Bali Beach Hotel, for Nusa Lembongan and Nusa Penida, looming up out of the ocean east of Sanur. The hotel has a well-maintained 9-hole golf course with swish clubhouse and shop. The course is open to visitors not staying at the hotel. Not far up the road is a golf driving range.
Day Trips from Sanur
The east coast to Padangbai Ferry Harbour,  Candidasa, Amlapura, Kubu and Amed are worth a visit, so an early start is recommended. About an hour away is the Bali Safari and Marine Park, near Gianyar.
Kuta, Legian and Seminyak on the southwest coast offer good surfing; experienced riders go for the waves below Uluwatu Temple.
Children will love Waterbom Park at Kuta. Visit the beaches of the Bukit Peninsula, Padang Padang, Dream Beach and Jimbaran Bay in the late afternoon, to watch the sunset and savour the fresh seafood at the many restaurants situated right on the beach.
Nothing in Bali is very far from Sanur. Use it as your base for exploring this fascinating island.
For a list of hotels and cheaper stay-overs, see "Accommodation" on this website.