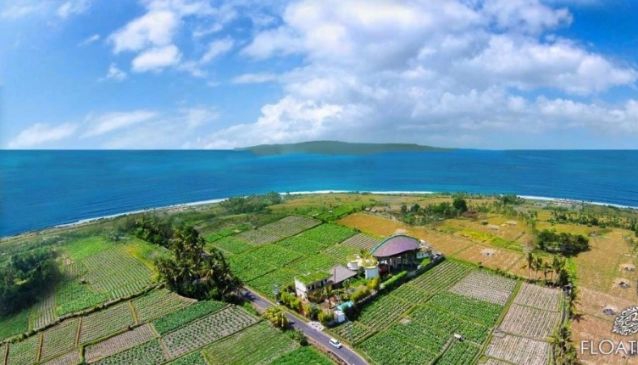 Floating Leaf in Best Bali Hotels
Editorial
Walk in. Float out.
A very gracious and kind article was recently published about Floating Leaf and we're blushing. We wanted to share it with you as so many of you are directly responsible for this esteemed honor. We congratulate all of you and our dedicated staff for helping make Floating Leaf Eco-Luxury Retreat one of the best hotels in Bali. According to Trip Advisor, the travel industry's premier customer rating and review platform, Floating Leaf is considered among the Top 5 of over 1,000 Bali hotels, surpassing some luxury brands like the St. Regis, Hyatt, Oberoi and Four Seasons.
We'd like to take this opportunity to personally deliver an enormous "Thank you" to all our guests for your wonderful 5-star reviews. Without these, we would not have achieved such prominence. Taking the time to write a public review of your stay with us is appreciated more than you could imagine. Some of you have even taken the time to describe, in great detail, your specific experiences. We are humbled by your kindness.
Our goal at Floating Leaf is to exceed each guest's expectations by paying attention to specific individual needs. We work hard at ensuring that nothing is overlooked, and no one works harder than my business partners, Putu and Mikaku. A common remark in TripAdvisor is that guests feel like a part of the family when they come to Floating Leaf. They leave after making new, life-long friendships.
Not only is Floating Leaf Eco-Luxury Retreat one of the top 5 hotels in Bali, but it continues to receive recognition for its nomination to the 2016 World Luxury Hotel Awards for "outstanding service." We're also among Trip Advisor's top 1% of hotels worldwide and the top-ranked eco-retreat in Bali.
The article
Best Bali Hotels
Travel + Leisure
Floating Leaf Eco-Luxury Retreat Rated Among Top 5 Hotels in Bali
Floating Leaf Eco-Luxury Retreat is now among the top five hotels in Bali according to Trip Advisor, beating other luxury brands such as the St. Regis, the Four Seasons and the Oberoi hotels. It's also rated number one for both eco-retreats and yoga retreats.
With its grand opening just a year and a half ago, Floating Leaf Eco-Luxury Retreat has set a new standard for eco-luxury in the most competitive hotel market on the planet. Soaring to Trip Advisor's 4th highest rated hotel in Bali, Floating Leaf now ranks better than over 1000 other Bali hotels including brands such as the St Regis, Four Seasons, Viceroy, Le Meridien and the Oberoi.
Not only is Floating Leaf rated among the top five hotels in Bali. It is also among the top 1% of hotels worldwide. Guest comments go into detail about the world class service, attentive staff, healthy cuisine and authentic cultural experiences.
Kathleen from Chicago, IL, especially likes the healers and yoga instructors, writing that, "If I could give Floating Leaf 10 stars, I would, without any hesitation. 5 stars is definitely an understatement!"
Likewise, Penny from Morro Bay, CA writes, "From the minute we arrived we were treated like royalty, waited on hand and foot and cared for as if we were family. Part of the personal service was that every member of staff knew our names and called us by them and we experienced daily culinary delights prepared with every member of the group's preferences in mind."
Asked how they were able to achieve its prominence in such a short period of time, co-owner and General Manager, Mikaku Doliveck stated, "We know many of our guests come a long way to visit Bali. Our staff works very hard to show how much we appreciate their choice to stay at Floating Leaf. We do everything we can to exceed their expectations and my wife Putu and I get a lot of pleasure from making sure guests leave our retreat happy, rejuvenated and eager to return to Bali."
In addition to its number four ranking for all Hotels in Bali, Floating Leaf is Bali's top rated eco-retreat in Trip Advisor. "We worked closely with the local community when building Floating Leaf and used as much recycled material as we could," says Doliveck. "We continue to operate under strict environmental processes while maintaining the highest standards of comfort and luxury."
Indeed, Floating Leaf has proven that it is not only possible to have both luxury and sustainability, but to combine them with great success.
If the luxury, food and attentive service from the staff weren't enough, co-owner Maryam Putu Doliveck is Balinese and a professional esthetician. Together, their knowledge, experience and connection to the island and its people provide guests genuine Balinese experiences such as spa and massage treatments, spiritual healing, wellness rituals and authentic Balinese purification ceremonies.
Management at Floating Leaf – Special Offer
As we continue to offer even better experiences and retreat packages, we invite both new and returning guests to share in our success. There is still availability in one of our signature packages, the Path to Happiness Retreat. For those of you who have yet to visit Bali, this is the way to do it. Discover how to live a life full of delight and exhilaration. Learn from qualified wellness experts and yoga instructors how to achieve sustainable joy. For those of you who have been with us before, this is your chance to recharge and take your happiness to the next level. Come here to learn more about the Path to Happiness Retreat.
To celebrate their latest accolades, Floating Leaf are offering 10% off all hotel rooms and personal retreats.
Simply use the promo code ``BEST IN BALI`` when booking.