Bali Hotels are Green
Editorial
Indonesia Minister awards Top 10 Green Hotels 2013 and 3 are in #Bali
Our Top Experiences and Tours in Bali:
If youʻre booking your trip to Bali last minute, we have you covered. Below are some of the top tours and experiences!

27th September 2013 was World Tourism Day,  and the chance for Indonesia's Minister for Tourism and Creative Economy, Mari Elka Pangestu, to hand Indonesia's Green Hotel Award 2013 to ten top hotels. Emerging as winner was: Hotel Borobudur at Jalan Lapangan Banteng in Jakarta, followed by St. Regis Bali Resort, Bali in second place, and Alila Villa Uluwatu Bali, third. Evaluations were made on 44 hotels in 13 of Indonesia's 34 provinces.

The Hotel Borobudur Jakarta was given the highest marks (84.75%) for its recycling of waste water and green cleaning, where recycled water was used to water the hotel's extensive gardens and to flush toilets. The hotel also reduced waste, use of water and batteries and economised on Air Conditioning, said Naning Adiwoso, Chairperson of the Evaluating Panel.

Minister Mari Pangestu commented that the Green Hotel Award was initiated only in 2011 and will be given every two years. The Awards are a serious effort on the part of the government and Indonesia's hotel industry to apply the concept of green hotels, which should be extended throughout Indonesia. Although initial application to build the green hotel requires substantial funds, keeping our environment healthy and green is all our responsibility, including that of the Tourism industry, said the Minister.

The three reasons why creating the green hotel is important, said Minister Pangestu are, firstly, through global warming and its related dangers, these will also impact on hotels. The tourist industry should reduce carbon emission, save energy, water and use environment-friendly materials.

Secondly, creating the Green Hotel is part of long term planning. Green hotels that save on power, water and fuel will reduce their overall operational costs.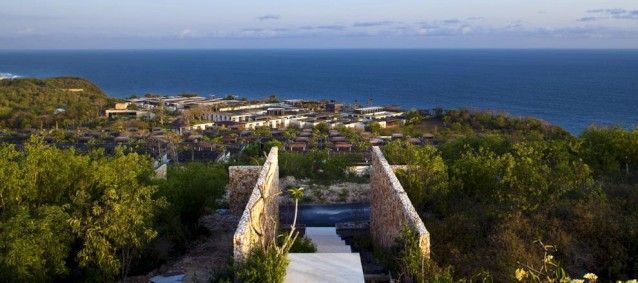 Thirdly there is the demand on the part of customers and communities who have become more environmentally aware. Since global warming impacts directly on people's lives, caused by deforestation, surging fuel emissions, then immense floods or lengthy dryness are expected to increase around the globe.
The government plans to offer incentives to stimulate implementation of the green hotel concept, both to new hotels as well as for already constructed properties.
Indonesia's Top Ten Green Hotels for 2013 are:
Hotel Borobudur, JakartaSt.
Dharmawangsa Hotel, Jakarta
Mandarin Oriental Hotel, Jakarta
Gran Melia Hotel, Jakarta
Hyatt Regency, Yogyakarta
Novotel Palembang, South Sumatra
Novotel Lampung Hotel, Lampung.
Curated and edited by Desmond Slade from indonesia:travel.com & etnNews