Bali Live International Festival
Arts & Culture
Java Jazz Festival has become the biggest Jazz Festival in the world! Bali is not far behind.
Well, they huffed and they puffed and they almost brought the house down. Then they got their friends in, who hummed and then strummed and started to get the vibrations going, then they called in some more friends who twanged and banged, and almost brought the house down. That was all in Java.
NOT the Big Bad Wolf and Three Little Pigs. No. No. No. Wrong! It was the Java Jazz Festival. It all happened in Java and then, as the story went on, "they all came to Bali", where Ias Balaskas of Jazz Café was huffing and puffing in Ubud, hoping it would all go well, and that there would be enough Jazz lovers to make the effort to present Bali Live Festival worthwhile.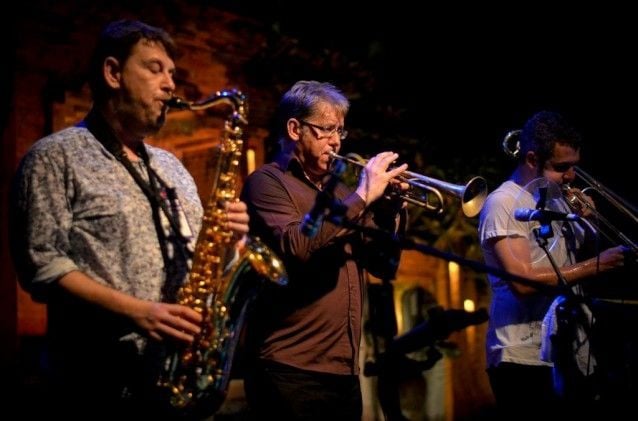 The Press Release said:
JAVA JAZZ FESTIVAL COMES TO BALI!
Java Jazz Festival has become the biggest Jazz Festival in the world! For the first time ever, the Bali Live International Festival, in association with the Java Jazz Festival, will take place right after the Java Festival, from 4th to 7th March, 2014. This prestigious Event with three days of pre-events, will feature world famous international acts from the Java Jazz line-up, plus other International artists, the best local talent from Bali and other parts of Indonesia.
Up till this year, there has not been an annual event providing a platform to showcase local talent, as well as attract high profile International Artists to perform in Bali.
'Our goal is to elevate the music scene in Bali to a new level of recognition and put Bali on the map in the same way that Java Jazz has done in Jakarta,' said Jed (Ias) Balaskas, organizer of the musicians on behalf of Jazz Café.
"We believe that this festival will provide that, whilst promoting Bali and adding a new attraction for foreign and domestic tourists during the low season,"  said Jed, famous for the first live Jazz venue on the island of Bali.
The concert will feature up to 6 International bands or artists selected from the Java Jazz line-up.
Jazz lovers in Bali will be pleased to know that Java Jazz Festival will celebrate its 10th anniversary in Java, and then move directly to Bali.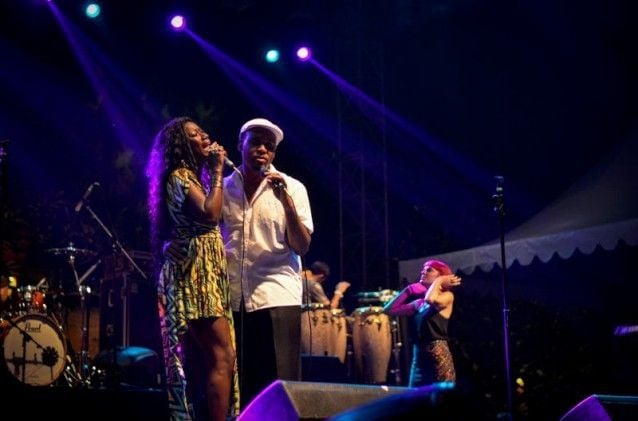 Finally, after a week of huffin and a'puffin, hootin and a'tootin, strummin and a'hummin and all the other things jazz lovers listen out for in Bali, this message arrived in my In-Box and other media promotors' mail boxes:
"On behalf of Bali Live,
"I would like to say a massive, massive thank you to you all!
"Bali Live Festival was a great success as expected, but we couldn't have done it without your help. It's already being hailed as the best Live Music Concert Bali has seen so far, and next year with more time, money, staff and experience and your continued support, we are going to make the next Festival even bigger and better than it was this time!
"We will be starting our organisation within the next 2 months so please contact me should you wish to participate once more…
"Many thanks."
Ias Balaskas - ias@balilivefestival.com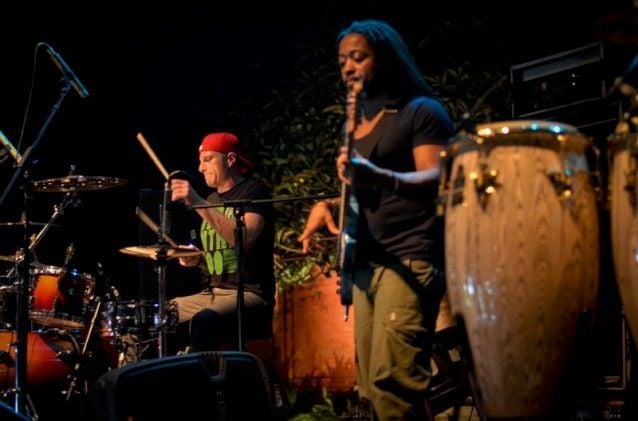 This was the program, more or less:
Friday 28th February and Saturday 1st March - Beachwalk, Kuta.
Then Monday 3rd March at Ryoshi House of Jazz, Seminyak with Rio Sidik & Saharadja featuring Special Guests From Java Jazz.
On Tuesday 4th March Jazz Café, Ubud featured Omar & Playas Gotta Play featuring DNOTES Harris & Robert Turner.
On the same day Jim Larkin & The Saucey Soul Band were at Nusa Dua Beach Hotel & Spa.
Wednesday 5th March saw Tania Maria at the newish Uma Cucina, Ubud and Estaire Godinez featuring Stokley Williams at SOS Anantara, Seminyak as well as Nita Aartsen, Israel Varela & Yeppy Romero at Sundara, Jimbaran.
Thursday 6th March - Mozaic Beach Club, Kerobokan hosted Earth Wind & Fire Experience featuring Al Mckay
Thursday 6th March – was a Free Event at Beachwalk, Kuta : Soul Cure 5pm  plus Nancy Ponto & The Soul Brothers.
Friday 7th March they rocked the Hard Rock Cafe, Kuta.
It ended at the lovely beachside venue of Taman Bhagawan, in Tanjung Benoa, Nusa Dua after a frantic week of moving instruments and players; a family day of Jazz, friendship and fellowship, food and drink, face-painting and the things kids love.
And then they all went home! 
Bali will never be the same; until next year!
Promise from Ias Balaskas! We have it in writing.
YOU, Friends of Jazz, will hear the vibes. Watch from year end 2014 when new announcements will come out for another series of great musical events in Bali, where great things happen.