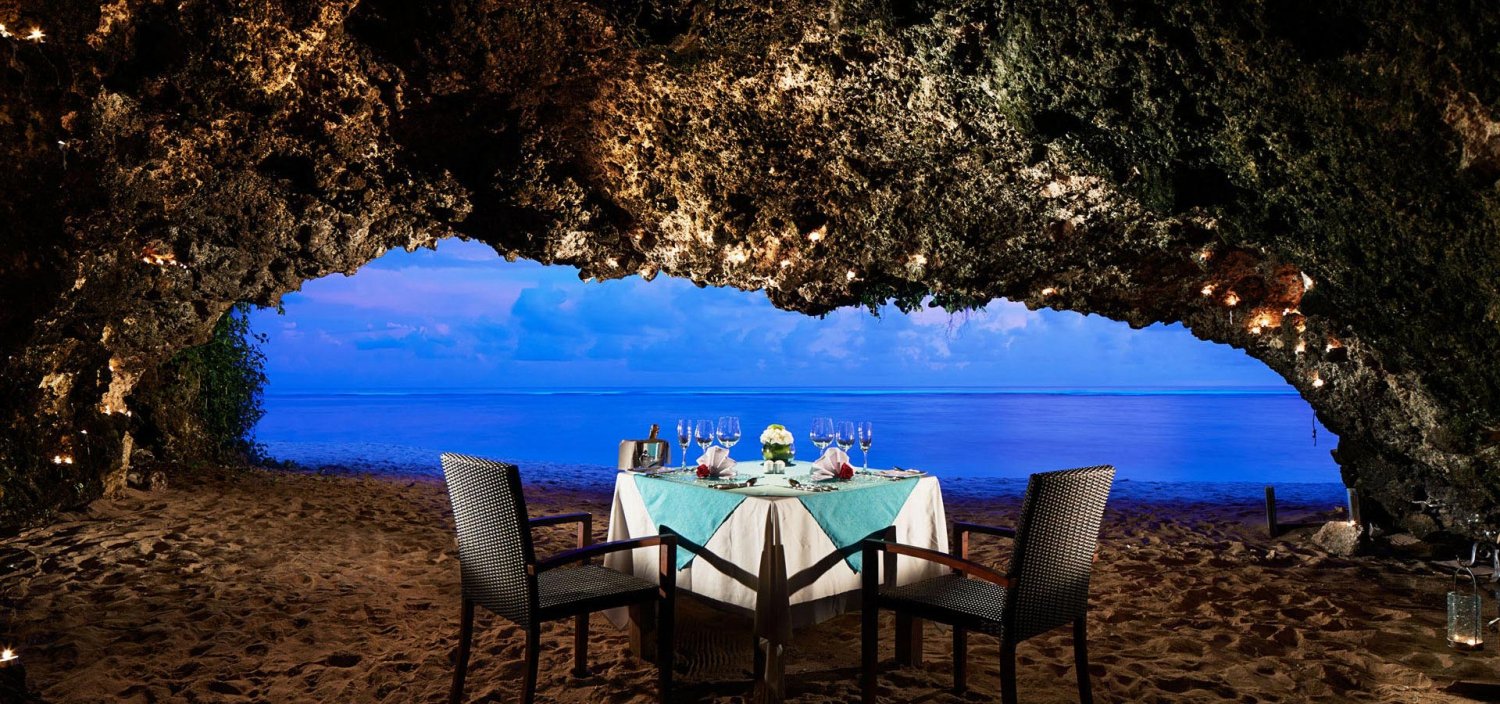 12 Best Romantic Dining Experiences in Bali
Food & Drink Inspiration
From the pristine blue water of the Indian Ocean to the lush green vegetation of the jungle, the enchanted island of Bali can surely set the mood for an intimate occasion for you and your sweetheart.
The enchanted island of Bali can undoubtedly be a very romantic getaway with a diverse range of local and foreign cuisines, providing world-class dining eperiences suited for any of special occasion to be shared with the one you love. Filled with unique secret hideaways and foodie havens, the island paradise yields a variety of options for your perfect fine dining experience. Each venue will take you on a unique cultural journey while enjoying the exquisite cuisine they have to offer. Whichever one you choose to share with your significant other, it will be sure to dazzle and delight.
From the pristine blue water of the Indian Ocean to the lush green vegetation of the jungle each venue can set the mood for an intimate occasion for you and your sweetheart. Maybe you want a cliff side private table for two or maybe you even prefer a love nest overlooking the jungle? Whatever you desire, the island of the Gods can accommodate. In this lovey dovey month of February, we have featured 12 romantic dinner options which will have your jaw dropping while impressing your loved one at the same time.
1. Dine in an Elegant Garden of Love: Metis Private Garden Pavilion
Cozy up to your loved one in an intimate setting surrounded by ponds adorned with vibrant lotuses and lilies with lush green rice fields in the distance, that make Bali so special. Dine in the luxury of a private pavilion surrounded by candles that provides complete privacy while served by a charming professional waiter. Metis will ensure that you and your romantic someone will dine in this magical private oasis while yielding exquisite service and remarkable quality. Indulge in sensational French cuisine while enjoying this quiet serenity with your special someone. The food and scenery is the perfect way to spend a special night in Bali.
Jalan Petitenget No. 6, Kerobokan, Seminyak, 80361. For reservation call (0361) 4737 888. www.metisbali.com.

2. Cliff-y Romantic Dinner: Cascades
Imagine walking on rocks laid in water leading you to a secluded little paradise overlooking the lush terrain of Ubud. Enjoy food from Cascades' colorful European degustation menu while spending time with your loved one in this serene setting. Each individual table feels intimate even while dining among others sharing a special night, serenaded by a private orchestra of nature itself. Gaze at the beautiful jungle canyon while taking pleasure in a first-class food and impeccable service. Poolside or cliff side, this restaurant set in the hills of Ubud is perfect for a romantic dinner for two.
Jalan Lanyahan, Br Nagi, Ubud, Ubud, 80571. For reservation call (0361) 972 111. www.cascadesbali.com.



3. Whimsical Cave Dining: Samabe Bali Private Cave
Talking about a jaw dropping dinner experience, we cannot forget to mention about Samabe Bali's Cave dining experience. Samabe Bali offers an unforgettable dining experience set in your own private cave. Yes, just the two of you in a private cave. Start out the night by watching an amazing sunset with your beloved on the beautiful white sand beach of Nusa Dua followed by a decadent five-course meal prepared by a passionate chef while served by your own personal butler. Enjoy the sounds of the waves crashing on the serene white sand beach as you set the romantic mood of discovering your own spot together.
Jalan Pura Barong-Barong Sawangan, Bali. For reservation call (0361) 8468633. www.samabe.com.



4. Fine Dining Along the River Bank: The Samaya Ubud
Are you and your partner looking for an adventurous way to spend a special evening, then look no further. Part-take in a one-of-a-kind fine dining experience at the edge of the Ayung River bank. Let the noise of the river sweep you off your feet from the comfort of your own private love table, hence the name of the restaurant: The Swept Away Restaurant. Enjoy your meal surrounded by 100 candles and delicately placed flower petals perched on the river stones. Take in the luscious Balinese landscape while provided exquisite service by your personal server for the night. The chef's at Samaya Ubud offer a sensational 6 course which will enhance the experience on your special night.
Banjar Baung, Desa Sayan Ubud. For reservation call (0361) 973606. www.ubud.thesamayabali.com.
Surround yourself with magnificent penjor poles (a traditional Balinese décor) and delicately placed lanterns as you dine on the luscious green lawn with smells of the refreshing ocean breeze below. From the cliff of Tanah Lot, fall in love with the majestic view from your private table for two. Relish in the serenity as you and your partner select from the sensational Moonlight Epicure and Aphodisiac menu prepared by your own personal chef. The mix of local and international cuisine will evoke the feelings of island life while enjoying these dishes in your own secret paradise.
Jalan Raya Tanah Lot, PO Box 158 Tabanan, Bali 82171. For reservation call (0361) 815900. www.panpacific.com.
6. Love Nest for Two: Bird Nest La View (Kupu Kupu)
Feel like an eagle while perched atop a love nest in the heart of the Balinese jungle. Experience the true nature of the island as you partake in an elegant dining experience in a bamboo-encased platform above the Ayung River Valley. Start the evening by watching an extraordinary sunset from the comfort of your dining table, then enjoy a five course sampling while you observe the spectacular jungle floor from above. This unique dining experience surrounded by the elegant smells of flower blossoms and peaceful atmosphere is sure to be the perfect place to share a special evening with the one you love.
Kupu Kupu Barong Villas, Sayan Kdewatan, Ubud, Bali 80571. For reservation call (0361) 975 478. www.kupubarongubud.com.

7. Blessed Meal above the River: Hanging Gardens Ubud
Delight in a spiritual meal in the dark intimate forest above the Ayung River. Set in the backyard of Temple Segara Dalem, peer into the local village life while you and your partner indulge in a cultural experience. This luxurious dining adventure is referred to as Secret Romantic Dinner by Ubud Hanging Gardens resort. Follow your guide as they lead you on a path, lit only by torches, in the middle of the dazzling Balinese jungle. Enjoy a contemporary four course Indonesian meal as you take in the serene ambiance of the Segara Dalem temple and listen to the babbling Ayung River below. At the end of your extraordinary night in the middle of a spiritual landmark, let the staff guide you and your loved one to a Hindu priest for a blessing.
Desa Buahan, Payangan, Ubud, Bali 80571. For reservation call (0361) 982700. www.ubudhanginggardens.com.

8. A Different View of Bali: The Menjangan Bali Tower Restaurant
You and your loved one can discover a whole different part of Bali atop a high rise wooden structure with an incredible 360 view over the West Bali National Park. While you dine with your partner at Bali Tower Restaurant, above the treetops, you may think you're in an African safari reserve. The national park offers unique terrain and vegetation that is a far cry from the well-known tropical habitat of Bali. Relax and enjoy a wide variety of Mediterranean and Indonesian cuisine while served by professional attentive staff. As you peer over the lush green valley with the Indian Ocean in the distance, this unique romantic setting will be unforgettable.
Jalan Raya Gilimanuk - Singaraja Km. 17, Buleleng, Bali 81155. For reservation call (0362) 94700. www.themenjangan.com.
9. Authentic Italian Candle Lit Dinner: Zibiru
For an authentic Italian dinner by candle light, head over to the cozy classic terrace of Zibiru. Choose from an extensive traditional Italian menu that is to die for. You and your partner will be impressed by the flavor combinations created by executive chef, and Italian national, Luigi Calcango. The atmosphere provides an intimate romantic feel while still capturing the Italian essence of being surrounded by family. This made-from-scratch regional Italian cuisine offers big home-style meals made with love that only an Italian grandmother could make. And don't miss the live jazz played on select nights, which will really set the mood. Let the friendly staff take care of your needs as you fall in love with the deliciously aromatic food and ambiance.
Jalan Drupadi 7, Seminyak, Bali 80361. For reservation call (0361) 733265. www.zibiru.com.

10. Classic Elegant Dining: Jemme
Dine in a lavish décor adorned with elegant jewelry. Jemme is a fine dining restaurant combined with a high-end jewelry gallery. Jemme offers western fusion mixed with a beautiful array of Indonesian dishes that will keep you wanting more. Take in the classic elegance of the dining room and rice paddy view while receiving superb service. Enjoy the ambiance as you and your loved one are filled with angelic nightly live music from a baby grand piano. To make the night even more special, the gallery offers jewelry which may be the perfect gift to go along with this beautiful fine dining experience.
Jalan Petitenget No. 28, Seminyak, Bali 80361. For reservation call (0361) 4732392. www.jemmebali.com.

11. Romantic Five-Star Meal: Kamandalu
Ever wonder what it would be like to dine in a five-star resort? Kamandalu Ubud offers just that and more. Experience a romantic five-star dining experience surrounded by rolling green hills and fantastic pools that encircle this magnificent resort. You and your significant other can chose from western fusion or traditional Indonesian cuisine as you dine at a private table for two on the lawns of the resort surrounded by flickering lanterns. Pamper the one you love with exceptional service and food under the Bali stars. This is truly a lavish way to spend a special occasion.
Kamandalu Resort & Spa, Jl. Tegallalang off Jalan Andong, Banjar Nagi, Ubud Bali, 80571. For Reservation call (0361) 975825. www.kamandaluresort.com​.

12. Beachside Romantic Tent for Two: Ma Joly
Although this comes in last on our list, it definitely does not mean that it is less amazing. Experience a dinner on the white sandy bits of Kuta, under an exclusive dining area, in a secluded tent for two. Radiant candle lights add a sophisticated glow to the quixotic and romantic feast. Located near the airport, the take-off and landing planes will be one of the highlights that will decorate your sky with their sparkling lights. This specialized romantic dinner is tailored for a sunset date, so make sure you and your partner come on time to witness one of the most beautiful sunset views in the south west of Bali.
Jalan Wana Segara, Kuta, Kabupaten Badung, Bali 80361. For reservation call (0361) 753780. www.ma-joly.com.
Written by:
Desmond Slade
PUBLISHED: Jun 9th 2017