East of Bali
Adventure
Tourism Gateway to Indonesia points to Bali's eastern island neighbours.
Our Top Experiences and Tours in Bali:
If youʻre booking your trip to Bali last minute, we have you covered. Below are some of the top tours and experiences!

By all standards, the first Bali and Beyond Travel Fair, at Bali Nusa Dua Convention Centre in June, was a great success. The organisers managed to bring in 256 exhibitors from Bali and beyond Bali waters. What's more, they brought in over 222 buyer companies, travel and tourism businesses from as far as Malaysia, Singapore, Vietnam and even the UAE.

To a seasoned show organiser and attendee, this was a credit to the organisers. As a first effort, I compliment ASITA and all concerned on a well-run exhibition. However, some companies need to train their representatives in better presentation techniques, and to see that their stands are manned all day, for the 3 days of the show. Compliments to the many Bali resorts which presented attractive show booths and literature, and which had trained staff on hand to talk about their resorts.

Bali is known as the Tourism Gateway to Indonesia, welcoming 326 plane-loads of tourists daily, but many people are unaware that large numbers of these tourists are transiting to little islands in NTT – Nusa Tenggara Timur - the Province of East Nusa Tenggara, formerly known as the Lesser Sunda Islands. Then there are the "Forgotten Islands" between the Banda Sea and the Sea of Arafura as far as West Papua, the Spice Islands, the Straits of Molucca and Sulawesi, and the State of Timor Leste-East Timor.

You have all heard of the famous Komodo Islands and their huge dragon reptiles, and Rajah Ampat is becoming well-known to divers who travel east on the many phinisis or twin-masted schooners adapted to take 10-14 privileged passengers each on the holiday of a lifetime. Can you imagine waking up in the night to nary a sound but the wind in the sails and the sea coursing along the sides of "your own" sailing ship for a week? Every day presents a new island and new marine life to explore in the crystal-clear waters around thousands of islands.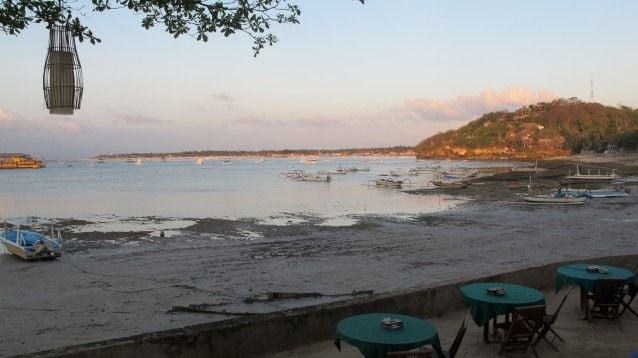 We are going to take you on some of these sea voyages over the next weeks, but we will start in the Lombok Straits and just beyond. First stop, and a day trip from Bali "mainland" are the "Channel Islands" of Bali, Nusa Penida, Nusa Lembongan and Nusa Ceningan. You can go for the day, dive and snorkel and gorge yourself on sumptuous meals, or you can stay overnight at one of a number of resorts, some luxury villas, some lumbung bungalows like at Hai Tide Huts on Mushroom Bay, almost Robinson Crusoe except that they have a luxury restaurant (and another next door) plus 2 swimming pools.
Nusa Lembongan is the main island for tourism and water sports. Only means of transport: Motor bikes, pedal bikes or water taxis, but all told, this is a fun place. There is even one boat called "The Fun Boat" enough said. Nusa Ceningan is tiny and the folks are mostly farming seaweed, a fascinating way of making a living by working with nature. Nusa Penida is the largest of the three but has only about 46,000 inhabitants due to the lack of water and the steeply undulating landscape. Flying over to Lombok, one is able to see just how isolated the hamlets are. The big attraction is that this is a Marine Protection Area for Mola-Mola (Sunfish), Giant Manta Ray, Whale Sharks, Turtles and hundreds of sea creatures. Lembongan is also a favourite for surfers.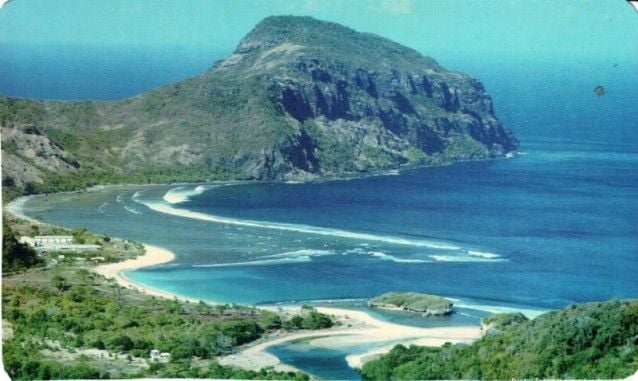 is the next large island east of Bali. If your pilot on the flight over has to land from the east due to the direction of the winds, you will be treated to a spectacular view of the South Coast of Lombok as he heads to the east. You will struggle to see habitation along this coast, that's how wild it is. But, for good or bad, this South Lombok coastline is about to be developed, now under the wing of the former Bali Tourist Development Corporation which developed the 350 ha Nusa Dua  Resort on Bali. Renamed Indonesia Tourist Development Corporation, this composite group is moving forward with infrastructure plans, including a golf course and marina at Mandalika. Some big names in hostelry will be the "anchor clients" but there will also be space for smaller developers. Promises are that all developments will be eco-friendly, using solar energy and wind for power, and providing much-needed job opportunities for this poor part of Lombok.
Now if the winds are friendly and your plane lands from the West, you will see a group of islands near a jutting-out piece of land in South-West Lombok, called the "Secret Gilis", bad name because the secret is out. Things are developing in the spectacular Sekotong Peninsula, the next big place on the traveller radar after years of quietly keeping out of the limelight. It is the gateway to the rugged south west peninsula and only a short drive from the main ferry port at Lembar.  Improved roads are helping to make this area accessible to more tourists. But this is still the place to come for a quiet holiday.
 At its heart is Sekotong Bay, a huge arc of white sandy beaches overlooking the small chain of islands which you may have seen from the plane. These south west Gili islands are a far cry from their more famous 3 cousins in the north-west and now attract a small but steady stream of weekend trippers and tourists looking for a real desert island escape.
Sekotong is around 60 km south of Mataram, the Capital, but the trip feels longer due to the winding rural roads that pass through a series of villages. It is possible to do a day trip but is best experienced over a few days, especially for diving or exploring some of the offshore islands.  It is just a short taxi ride away from Lembar if you take the long ferry trip – 3.5 hours – from Bali, but only a half hour from the new Lombok International Airport at Praya in the south.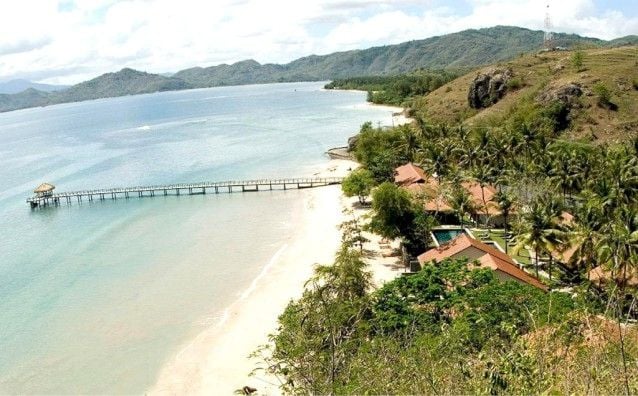 What to do around Sekotong
​If you want bright lights and late nights, you'll be disappointed in Sekotong; it is the perfect example of untouched beach scenery where locals bring in the daily catch. Sekotong includes the neighbouring village of Tawun, the launching point for the short trip to some of the 12 Gilis. The whole area is well spread out along two large bays and beyond, so wherever you choose to eat or stay, fabulous seascapes come as standard photographic material.  Most of the hotels and resorts are on the beachfront with acres of space, even for budget accommodation. Besides good diving and snorkelling, this is a place to be dazzled by the scenery and do next to nothing.
Driving west towards the western tip of the peninsula, Pelangan is a prime example of rural Lombok life. The traditional market here is one of the best in the southwest. Tourism is slowly making its mark. From here it is a short but winding trip past deserted beaches to Bangko Bangko -  'Desert Point.'  If you are a seasoned surfer the name needs no introduction. Desert Point is regarded as one of the world's very best surf spots and the fast moving, barrelling waves are only for the experienced.
The 'Secret Gilis'
Just beyond the beaches of Sekotong are the dozen dreamy small islands fringed by pristine reefs and abundant powdery white sand.  Little more than specks in the ocean from an airplane, these "secret Gilis" offer peaceful island living and even the more established Gili Nanggu, Gili Gede and Gili Asahan are extra laid back. Others include Gili Sudat, Tangkong, Genting and Gili Lontar, all with great snorkelling and scuba diving.  The most memorable I found to be Gili Kedis, the so-called 'Honeymoon Island' that takes 1 minute to walk around, if that's what you came for. All the islands can be reached by a private outrigger boat from the "mainland".
Diving around Sekotong
Divers and snorkelers will notice how entire and pristine the reefs are here in the south west. There has been no cyanide or dynamite fishing. In fact, these dozen or so dive sites were undiscovered until around 10 years ago.  In some places, the currents can be pretty trecherous but generally it's a great spot to learn the basics. Seasoned divers can go deeper in the more challenging spots. The area offers something for everyone - a huge variety of hard and soft corals, mantas, reef sharks and lots of small sea creatures.  There are just a couple of dive centres based in Sekotong, but dive trips can also be arranged from the Gili Islands and Senggigi in north-west Lombok.
Stay-overs:
Cocotinos Pandanan, Sekotong – lovely villa-bungalows, restaurant and several pools - tel: +62 (0) 81 907 972 401
Secret Island Resort, Gili Gede  - tucked away - tel: +62-818 0376 2001
Gili Nanggu Bungalows, Gili Nanggu – amongst the whistling casuarina trees -  tel: +62-370 623783
Something need correcting? Contact us