Eating Out in Ubud
Food & Drink
You can still indulge without the bulge
When you are looking to cleanse, detox, get creative or simply rediscover your mojo, all roads lead to artful
Ubud
. The town is renowned for its myriad boot camps, workshops and retreats, all extolling the virtues of wholesome, clean living which of course is no bad thing. However we all need our guilty pleasures, right? It's easy to see that Ubud's love affair with art extends to the dinner plate. Although Seminyak may disagree, this is Bali's most creative and eclectic dining scene and while in Bali you certainly don't want to pass up the opportunity to dive into some fab food.
Of course, Ubud's reputation for wholesome good living means you can still indulge without the bulge. The raw food movement is in full swing, there is healthy spa cuisine and seemingly everywhere home-grown organic produce is on the menu, be it a budget eatery or classy bistro.
Kafe (Jalan Hanoman, Ubud)
is a must for healthy light bites, a great range of veggie options and breakfasts. Don't miss out on the yummy raw cheesecake desserts.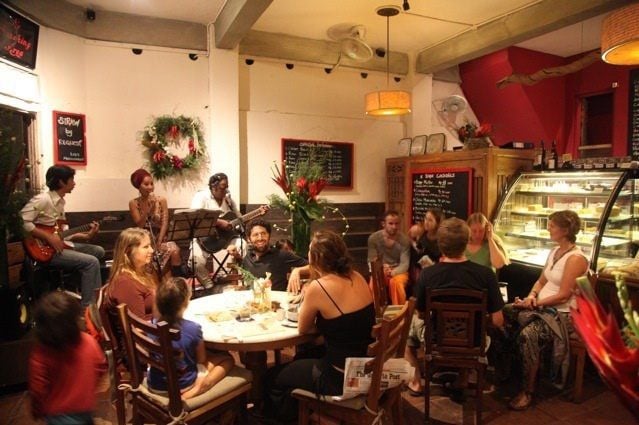 Art and food are often inseparable. Many of Ubud's major
galleries
have great cafes or restaurants on site and conversely, numerous independent restaurants showcase work by local artists. A prime example of this is the Belgian-run
Café des Artistes
(Jalan Bisma, Ubud) with walls adorned with modern Balinese art for sale. Chow down to classic grilled steaks, pasta, Thai bites, crepes and pick out a piece of original art to take home. There is an impressive wine list too.
Ubud has a slightly misleading reputation for being on the expensive side when it comes to dining. True; proportionally there are fewer real budget cafes compared to somewhere like Kuta for example, but you won't have to put up with identikit restaurants serving up bland tourist fare – standards are consistently high and I find it to be generally good value at all levels. You can still get your fill of decent street food for just a couple of dollars, and on average should pay little more than $10 for mains in one of the better Ubud eateries.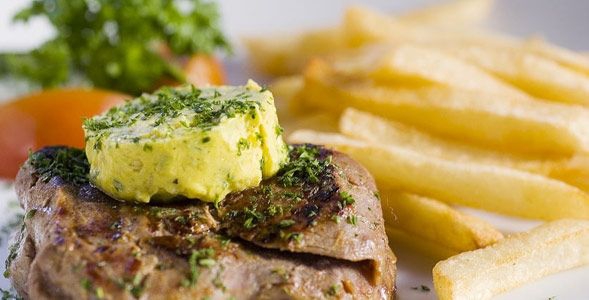 There is certainly nothing bland about
Ibu Oka
. This Ubud institution is the top pick for cheap eats in Ubud, in a prime spot right by Ubud Palace. It is something of a foodie pilgrimage and an essential stop on the tour bus circuit so you simply must get here before the lunchtime rush or risk a long, long wait. The concept is very simple; serving up nothing but Balinese Babi Guling (roast suckling pig) along with rice and a side of vegetables in very simple surroundings. One of the most famous eateries in Bali, diners flock to here from all over the island just to sample the food. Not bad for under $5 a head. Other notable places for quality local food include Bebek Bengil (Jalan Hanoman) specialising in Balinese crispy duck and long-time favourite Ibu Rai (Monkey Forest Road) offering a modern take on Balinese and pan-Asian classics.
At the other end of the scale,
Mozaic
(Jalan Raya Sanggingan) is Ubud's hot ticket for a one-time splurge.  This Michelin star worthy restaurant is an experience in itself, set in a lush garden for a sumptuous six-course tasting menu by candlelight. Expect prime Wagyu beef, Boston lobster foie gras and more. If you are planning a celebration or looking to impress, Mozaic is THE place to splash out.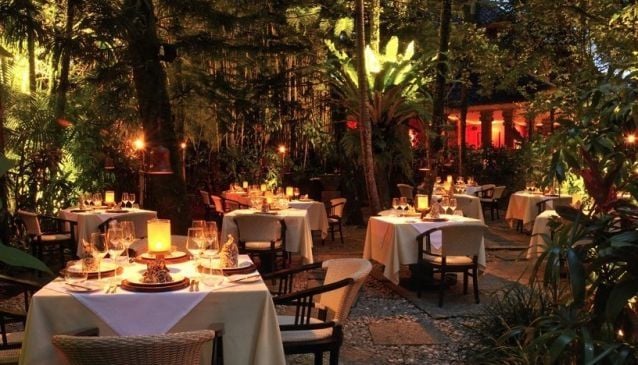 Of course, eating in Ubud has always been about much more than just the food. Once you venture off the main road, views of rice fields and lush vegetation come pretty much as standard, wherever you may wander. Head over to nearby Kedewatan village to La View Restaurant (at Kupu Kupu Barong Villa Resort) for a front row seat to panoramic vistas of the Ayung river valley. Closer to the town centre, Bridges (Jalan Campuhan, Ubud) is another great riverfront spot set over several levels with a superb east-meets-west menu, ideal for a casual lunch or romantic dinner.
While Ubud packs a punch on the cultural and artistic front, it is hardly a hotbed of late night action. Generally, dining is the main attraction in the evening, perhaps after a Balinese dance show at one of several venues around town. The dining scene kicks in early in the evening and very few places offer a full dining menu beyond 11pm. Yet there are a few good bars dotted around that host live music most nights. A good bet is the slinky XL Shisha Lounge (Jalan Dewi Sita) for stylish tapas bites and a laid back vibe until late. Elsewhere there is also a fairly well established live Jazz and salsa scene.