Rote Island east of Bali
Adventure
Rote is habitable but just less than 120,000 people enjoy its splendor.
Our Top Experiences and Tours in Bali:
If youʻre booking your trip to Bali last minute, we have you covered. Below are some of the top tours and experiences!

How would you like to live, or holiday, on a tropical island with a population of just 119,711 in an area of 1,200 km2 (463 sq mi)? That's about 96 people per km2 or 258 per Sq.mi).

Rote, just off the southern tip of Timor Island, consists of rolling hills, terraced plantations, acacia palm, savanna and forests on higher ground.

Rote Island (Pulau Rote, or Roti) is part of the East Nusa Tenggara province of the Lesser Sunda Islands and the second last Indonesian island before the Australian coast. Taking the honour of being the southern-most Indonesian island is tiny uninhabited Ndana Island (Pamana) just south of Rote, with an area of 14 km2 (5 sq mi). Rote is 500 km (311 mi) northeast of the Australian coast and 170 km (106 mi) northeast of the Ashmore and Cartier Islands of Australia.

Rote is situated to the southwest of the larger island of Timor, half of which is Indonesian, and the eastern half is independent Timor Leste (East Timor). To the north of Rote is the Savu Sea, and to the south is the Timor Sea. To the west are Savu and Sumba islands.

Main town, Ba'a, is located on the northern side of the island (though not sure how many sheep live nearby). Rote is known for its good surf areas in the south near the village of Nemberala. Transport for local passengers and goods as well as tourists is a daily ferry to and from Kupang, the provincial capital on West Timor. The trip between Kupang and Ba'a takes around 2 hours.

The Rotinese depend on the lontar palm for basic survival and supplement their income from fishing and jewellery making. Agriculture is the main source of employment.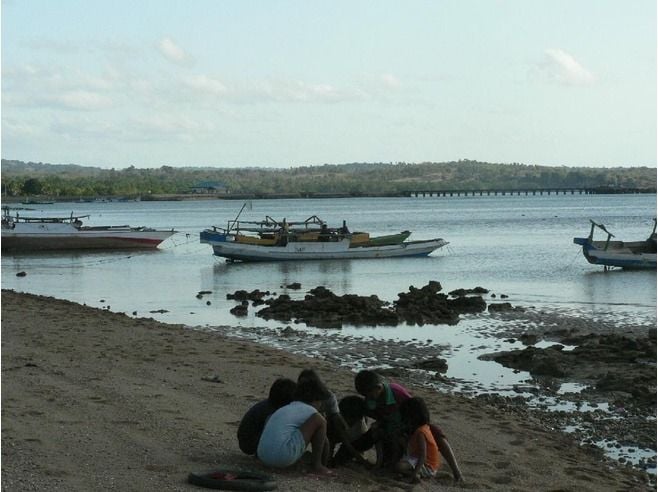 Good reasons to go to Rote
Rote is particularly well known for its surfing. Each year surfers flock to Namberala to ride the near perfect tubes formed by the shallow reefs and off-shore winds. Competitive surfers flock to annual surf trials.
Accommodation in Namberala includes a traditional beachfront bungalow resort and several home stays. The beach itself is one of the best examples of a palm fringed pure white sandy beach to be found in Indonesia.
Diving in the area is also exceptional due to the large numbers of Manta Ray and Dugong seen around this untouched beautifully rugged land. Spectacular walls and caverns mirror the hills, valleys, and escarpments underwater.  A boat trip to nearby Dana or Ndao Islands is also recommended.
Stay in Kupang on the way
Kupang, the provincial capital of East Nusa Tenggara in Western Timor has proximately 522,900 citizens, making it the largest urban center in the province for government, business, trade, and education. It has the only sandalwood oil factory in Indonesia.
Being the capital of East Nusa Tenggara (NTT) the transport and administrative links from Kupang with isolated islands are extensive. Its location was an important port and trading point during the Portuguese and Dutch colonial times. Visitors may see ruins and remnant signs of the colonial presence in the city.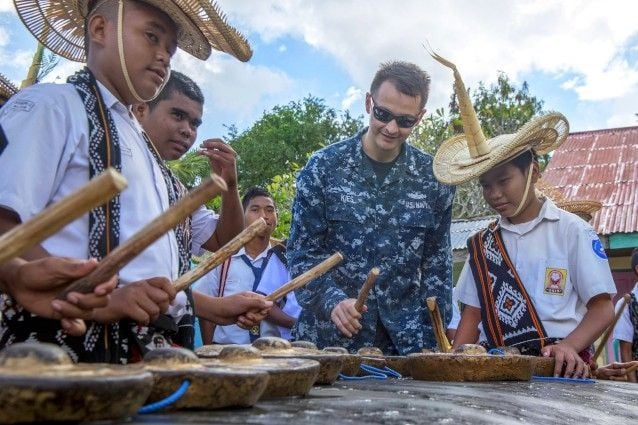 How to get to Rote
El Tari Airport in Kupang offers nonstop flights from 14 cities including Bali, Makassar and Surabaya with at least 245 weekly flights with the following airlines.
Lion Air, Wings Air, Aviastar, Garuda Indonesia, Susi Airlines, Sriwijaya Air, Batik Air, Citilink, Silk Air.
There are also flights from Perth, Darwin and Singapore.
PELNI ships (Indonesian Government ferries) regularly sail from Jakarta, Surabaya, Bali, Makassar, Biak and other ports to Kupang.
 
Some facts about Rote
Southern-most inhabited island of Indonesia.
Nearest Indonesian island to Australia.
Plenty of surf spots, as well as underwater life to explore.
The critically endangered Rote Island snake-necked turtle is endemic to Rote Island.
The architecture of Rote is unique, as is their exquisite ikat weaving.
The Rotenese and their kingdoms are divided into two domains, one known as Sunrise and one as Sunset. A "male" Lord, a "female" Lord and several advisers, rule the clans within their domain.
At the annual HUS ceremony at New Year, Rotenese men wearing their unique hats make offerings to the clan ancestors and the women dance accompanied by sasando, the Rotenese guitar.
Kupang was the final destination of Captain William Bligh (actually a lieutenant in the British Royal Navy) who was set adrift in an open boat during the Mutiny on the Bounty.
Rote island could be your new holiday home, just a few hours from Bali.
Invest in Rote through the only serious and experienced real estate agent on the island.