Walking for Disadvantaged in Bali
Bali
Solemen are excited to announce their latest walk taking part in the BII Maybank Bali Half Marathon
This year Solemen will be taking part in the Bali Half Marathon (part of the Bali Marathon to raise awareness and funds for their work to help the disadvantaged in Bali. Their team of brave ladies and gentlemen will be bearing the early 5am start, followed by the heat, to walk, run (or perhaps crawl) the 21km course. Solemen's team will be wearing funky Solemen bandanas on the way round so they'll be easy to spot. If you can sponsor one or more of the team of walkers, it will make world of difference to the people in need.
Donations will go towards funding Solemen's work to change the lives of people like Caged Made, Ayu, Giggling Putu and many others in need of help.
Please help by sponsoring Inge, Leigh, Robert, Sarah, Aron, Guscha and Tyr for their efforts. Donations can be made here.
Next Event becomes a "Long Weekend"
Solemen and their invincible support team will conduct a WADA Event - Walk to Assist Disabled Athletes in Bali, covering 100 kilometers through Eastern Bali over 4-days September 23-26, 2014.
The walk is intended to raise funds to support disabled athletes and foster awareness of their plight. It will start at Nusa Dua and cover 100 kilometers over 4 days ending at the Ujung Water Palace in Karangasem. Operating in four 25 kilometer stints, walkers will travel through Nusa Dua, Jimbaran, Kuta, Seminyak, Sanur, Ubud, Gianyar, Klungkung, Candidasa and Jasri.
The concept of the WADA was originally to raise awareness of disabled athletes in Bali who struggle to obtain support, both physical and financial, to enable them to compete in local, national and international sporting events.
In August this year, Bali Sports Foundation (BSF) received an invitation from the International Wheelchair Rugby Federation to field a team at the upcoming Asian Para Games held in Korea in late October. With the approval of NPC, the Indonesian National Paralympics Committee (BSF) now has the challenge to not only train the team but also raise the funds  to enable the first-ever wheelchair rugby team from Indonesia to compete at this international event.
With the valued support and in partnership with Solemen Indonesia, the WADA will now focus on raising awareness and collecting funds for the Indonesian Wheelchair Rugby Team and for Solemen initiatives that support other disadvantaged individuals in Bali.
The coming WADA Event will see members of the Bali Sports Foundation and SOLEMEN affiliates  walk, on average, 25 kilometers per day over 4 days:
Day 1: September 23rd - Nusa Dua to Seminyak. Starting from the entry gates/Security checkpoint at Nusa Dua at 7:30 a.m. Finishing at Seminyak Square.
Day 2: September 24th - Sanur to Ubud. Starting at Stiff Chilli Restaurant, Jalan Kesumasari, Sanur at 7:30 a.m. - Finishing at Ubud Monkey Forest.
Day 3: September 25th - Ubud to Klungkung. Starting at Yayasan Sjaki-Tari-Us, Jalan Monkey Forest, Ubud at 7:30 a.m. - Finishing at Kertagosa, Jalan Puputan, Klungkung.
Day 4: September 26 - Goa Lawah to Ujung Water Palace. Starting Goa Lawah temple at 8:00 a.m. after making offering at the temple - Finishing at Ujung Water Palace, Jalan Karangasem-Seraya where there will be a fund raising event with food, drink and music to celebrate the completion of the WADA.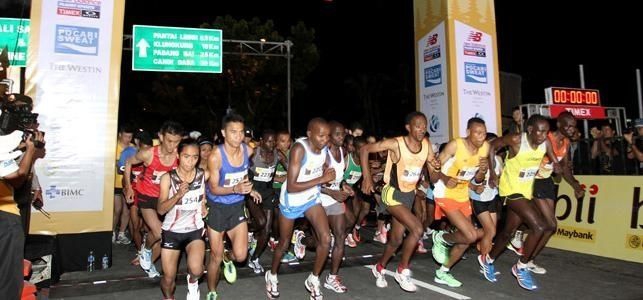 The public can support the WADA Event by:
Joining the walkers on one or more days and having friends, family or work colleagues sponsor you in the walk.
Businesses can provide sponsorship for the walkers or donate goods or services that can be raffled at the final event at Ujung on Friday, September 26th.
Souvenir singlet vests will be available for sale at a cost of Rp. 100,000 (US$8.70) at the beginning of each day and at the final day rally.
Organizers aim is to have at least 25 people walk each day to show their support for the disadvantaged and disabled people living in Bali.
Registration closes on September 15, 2014.
For more information email Vicki or Robert Epstone  
Join Solemen at the Marathon
There's also still time to join in the fun…come to cheer the team on or if you are already doing the Marathon, why not join our team walking for the disadvantaged in Bali and help raise funds? Contact us for more information.
Acknowledgements to Solemen and Balidiscovery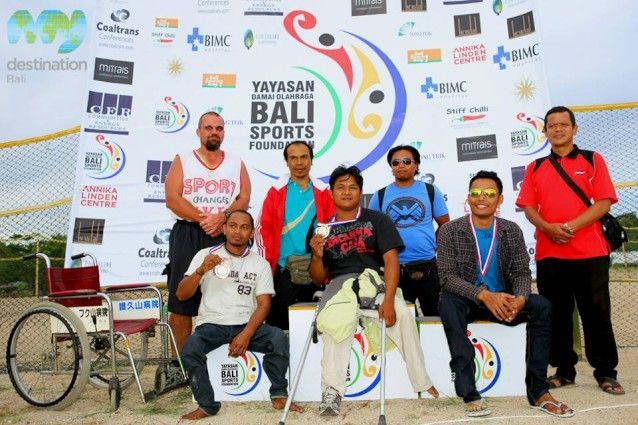 Message from Rodney Holt of Bali Sports Foundation
Bali Sports Foundation has been invited to join the Asian Para Games with in the inaugural Indonesian Wheelchair Rugby team. The Asian Para Games, second only in importance to the Paralympics, will be held in Incheon, Korea with over 4000 para-athletes from 42 countries  in attendance. 
Wheelchair rugby is a sport for those with cervical spinal injury and was designed by combining the elements of handball, wheelchair basketball, and rugby with a lot of contact between wheelchairs. Started in Canada in 1977, this sport was played between the disabled with quadriplegia (Cervical spinal injury). Today, it continues its explosive growth centering on America, Canada, Australia, European countries and in Asia including now Indonesia.
Supported by the National Paralympic Committee of Indonesia, the Indonesian wheelchair rugby team has gone for a mixed gender team consisting of  6 males and  4 females living in Bali. Each member has either quadriplegia or cerebral palsy with a disability in three limbs.  They have never been out of Indonesia.
Each person will need to obtain a passport and most have never even been on a plane before.  They have been selected by Bali Sports Foundation to represent Indonesia and each one is associated with one of the following Yayasans in Bali: YPAC, Senang Hati, KupuKupu and Cahaya Mutiara.
Make a donation to Bali Sports Foundation.
Something need correcting? Contact us