Bali Taman Nusa Cultural Park
Arts & Culture
See the diverse natural architecture of Indonesia in 1 morning
Our Top Experiences and Tours in Bali:
If youʻre booking your trip to Bali last minute, we have you covered. Below are some of the top tours and experiences!

Anyone familiar with the story of the "Pearl of Great Price" will appreciate it when I say I have met a man who found 69 Pearls of Great Price, "sold all he had and bought them".  Then he set about mounting, in Bali, these Pearls of Indonesian architecture in a setting so beautiful that he has created a true gem which every Indonesian and not a few foreigners, should visit, a necklace of unique homes from all over Indonesia.

It will make Indonesians proud of their heritage and others gasp in awe at the diversity of dwellings from the farflung islands that make up Indonesia. These buildings were either taken apart in the settings where they have stood for hundreds of years, or been designed according to local plans from the many islands where they originate.

After working for some time with the building industry, I was able to appreciate the immense project taken on by Sentoso Senangsyah and his architect Professor Gunawan Tjahjono, in bringing together the varied  structures which make up Taman Nusa Indonesian Cultural Heritage Centre in the east of Gianyar Regency of Bali. Having done a bit of project management, I could never imagine myself taking on something of this enormous size and diversity and setting it all in the form of a living museum for all visitors to Bali to enjoy.

We turned up, my son Brendan and I, unannounced, but struck by the welcome from the first gate to the reception.  Here a kind lady listened to my story and called Dani Tjana, Director of Marketing, who in turn listened some more, then decided to conduct us on the first phase of the tour herself, while a gentleman called James finished what he was doing before guiding us through the villages.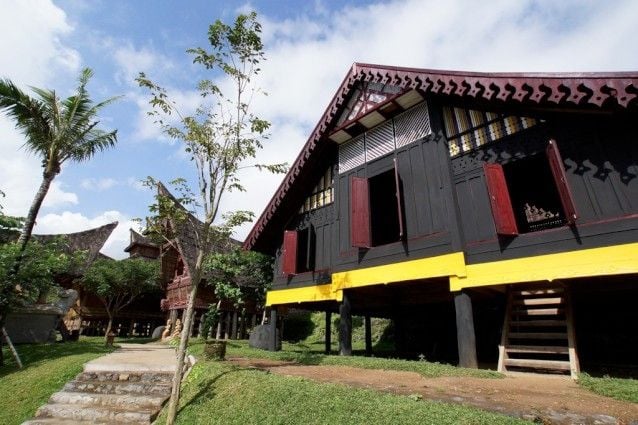 Ibu Dani took us through the "unfinished" museum, already festooned with art pieces and a miniature replica of a phinisi, through the labyrinth of caves which depict the Prehistoric Era, the Bronze Age and the Kingdom Age of what has become the nation of Indonesia. Then she stopped short and said: "You are now in for a pleasant surprise." As we rounded a bend I gasped: "Borobudur."
There before our eyes was the replica of the Buddhist Temple from Java which is a UNESCO World Heritage monument. In the centre is a large Buddha, with more than 60 others hidden in various places throughout the temple.
The grey stone replica of the Borobudur Temple itself was sculpted in 3 villages in Java, all managed by one man, then trundled over to Bali in 89 trucks, to be assembled on site in Gianyar.
At this point Pak James took over and we started with a visit to  "Papua", where we were met by a local man in his native costume. 3 huts comprise this compound depicting life in a Papuan village. Next we proceeded from one gasp to another, from one superbly built home to another, almost all constructed from timber or other natural products, most with thatched roofs.
Every province of Indonesia is represented, some of the larger ones by more than one regional building due to the sheer size of some of the island provinces, like Kalimantan (539,450 sq.km) Sumatra (473,606 sq.km) Papua (421,952 sq.km) Sulawesi (189,035 sq.km) and Java, including Madura (132,035 sq.km). "Unity in diversity", from the philosophy of Javanese poet Mpu Tantular, is certainly evident all around. There is every possible kind of home, from the grass huts of Papua, to the joglo houses of  Central Java, the Minangkabau palace of West Sumatra to the Batak homes with their projecting grass roofs and the tall grass spires of the Sumba houses. The smell of different kinds of timber in each home is delightful.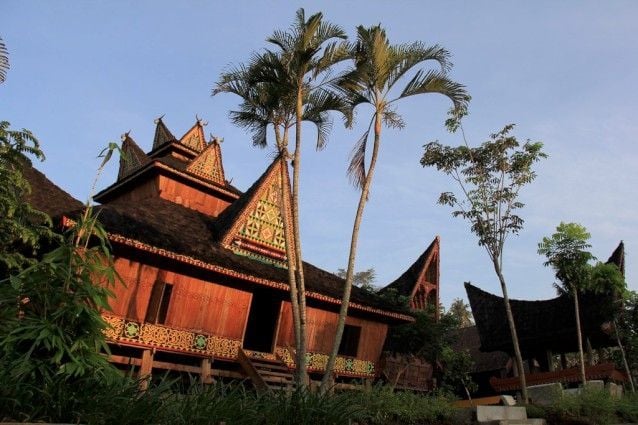 At one point we realised that the story of this foreign man and his son, with so many interesting questions, had passed along the line, and we met up with Santosa and his charming wife Veronica, waiting to meet us on the verandah of their favourite house. During a friendly chat the humility of the man who brought this all together became evident. A friendship developed as I told him that much of the furniture in his replica houses was familiar to me, since the Dutch traders had taken much "Batavian" furniture to South Africa, where my son and I were born.
It can be seen in many of the "Cape-Dutch" houses all over the Western Cape Province. Sentosa and his wife were even more surprised to hear that there is a race of people in Cape Town descended from political prisoners who were enslaved in Batavia, Makassar and other provinces of the "Dutch East Indies" and taken to work in the farm houses and fields of the Cape in the 17th and 18th centuries. Although the style of Cape furniture changed over the years, with stinkwood and yellow-wood taking precedence, the Cape Malay, as they are known today, are still skilled artisans in many fields such as carpentry, building and tailoring.
One thing lead to another and my son and I were soon seated at table with the gracious couple and one of their sons, Edward, returned from Australia to take on the huge task of computerising records. The centre will soon have a library and museum, with live craftsmen and women creating their masterpieces in wood, batik, weaving and embroidery in a "living museum".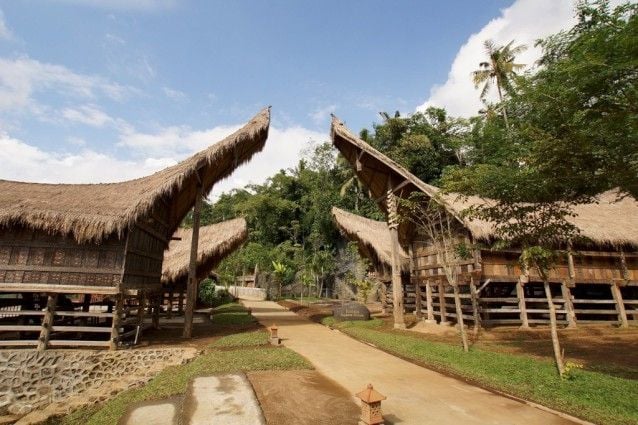 As we looked out of the expansive windows of the Royal Sidan Restaurant towards the verdant jungle and rice terraces on the other side of the Melangit River, I remarked that it would be a pity if that glorious backdrop were to be destroyed. "No, never," said Sentosa in his humble and soft voice. "We have almost bought it, so we will be responsible for protecting it. It is too beautiful to lose."
On leaving the restaurant, Brendan remarked on a particularly tall tree with cloud-like branches, reminiscent of African Savanah trees lopped by tall giraffes. "Ah, your son loves the beauty of nature too," remarked Sentosa.
We walked with our gracious hosts past the Indonesian Independence yard, with larger-than-life statues of Soekarno and Hatta in front of the Declaration of Independence, then passed a modern replica of homes in an Indonesian Chinatown. I had to resist making a remark here, as Sentosa had said earlier: "I don't feel Chinese. I was born in Jakarta. I am Indonesian and so are all my family."
Soon we crossed the bridge over the Melangit River again. The future Library and Living Museum were pointed out to us. Then it was "Good-bye for now. We shall see each other again." And so will shall. One visit to this incredible place is not enough. I am still in awe of the immensity of the achievement, which will surely, one day, become a World Heritage site.
Taman Nusa Indonesian Cultural Heritage Centre is situated at Jalan Taman Bali – Banjarangka, Banjar Blahpane Kelod, Desa Sidan, Gianyar, Bali. For a map, see their website at www.taman-nusa.com.
To organise school  trips phone 0361 952952 or email dani@taman-nusa.com