Diving in Bali Waters
Inspiration
393 species of coral and 952 species of reef fish - and that's without mantas and mola molas
The waters around Bali are rich indeed, with an amazing diversity of colourful fish and healthy coral species. The hard and soft coral is magnificent and almost untouched, with abundant sea fans and sponges. Bali is a haven for divers of all standards, with many diving schools along the coast offering everything from scuba for beginners off Sanur, to deep dives up the east and north-west coasts. The more daring divers go to Nusa Lemgongan and Nusa Penida to see the big fish.
When marine biologists conducted a survey in April and May 2011 at 33 dive sites off Bali, they recorded 952 species of reef fish - including eight new discoveries - at Pemuteran, Gilimanuk, Nusa Dua, Tulamben and Candidasa. 393 coral species were also recorded (including two new ones) between Padangbai and Amed. The highest coral distribution was found in Gili Selang and Gili Mimpang off Candidasa, in Karangasem Regency, East Bali.
So now that your appetite for going "under the sea" is aroused, you will want to know when to come over, what to bring and who to trust with diving equipment. There are PADI-certified instructors and dive buddies all along the coast.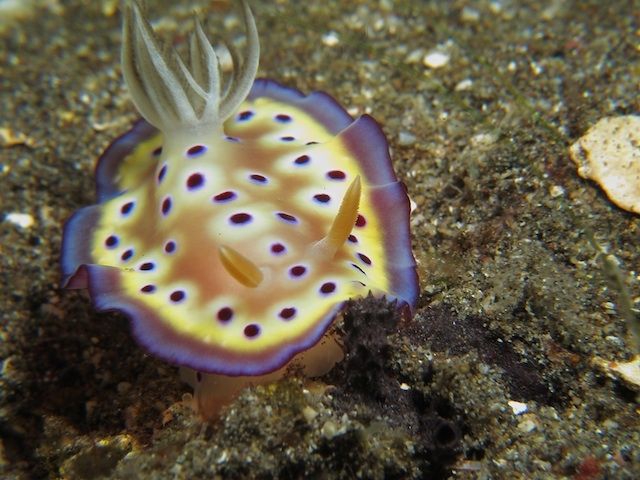 Best time to dive in Bali
Bali is just 8º below the Equator, so it is blessed with warm water temperatures most of the year. The best diving season is from May to November, the so-called dry season. This is also the most popular holiday time, but most non-divers stay in the south and south-west, where there is plenty of surfing but little diving.
Sea temperatures during the "colder", rainy months are around 29°C, so you won't be catching a chill - but it is recommended to wear a 3mm shorty or a full-length suit, depending on where you plan to dive. The coldest water is around Nusa Penida and Secret Bay, with temperatures as low as 24°C! Brrrr!
The best time to see manta rays is April and May. It is not recommended  to dive during the monsoon, from December to February. Heavy rain and swirling seas makes visibility poor at the East and North  Bali dive sites.
Where to Dive
There are three scuba diving zones around Bali:
South Bali - Nusa Penida, Nusa Lembongan, Sanur.  Go to Manta Point, off Nusa Penida, to observe the superb manta rays. You can also see reef sharks, and sometimes hammerhead sharks. Try to dive Blue Corner, Crystal Bay as well as Manta Point to spot the rare mola mola or oceanic sunfish, best  seen from August to October. The visibility is usually very good, ranging from 10 to 50 meters. The current can often be strong here, and at several of the other dive sites around Bali, so the sea should be treated with respect.
Besides the big chaps around the islands of Nusa Lembongan, Nusa Penida and Ceningan, you will  spot plenty of pelagic fishes such as barracuda, giant trevally, whitetip reef shark and blacktip reef shark. Several species of turtles are common around the islands, too. Bali waters are also very rich in the small and strange creatures like ornate ghost pipefish, mimic octopus, leaf fish, frogfish, pygmy seahorse, flamboyant cuttlefish, rare nudibranchs and so much more!
East Coast of Bali - Padangbai, Candidasa, Tulamben (wreck of the USS Liberty), Amed, Gili Tepekong, Gili Biaha and Gili Mimpang, Balina Beach.
Northwest Coast of Bali  - Menjangan Island, with many dives, steep walls and drop-aways. Covers 7,000 hectares of coastal waters and coral reef within the Bali Barat National Park. Early morning is the best time to dive. Snorkel at Permutaran near Menjangan, and Gilimanuk on the north-east of the Prapat Agung Peninsula. Lovina has a calm inner reef area - a good place to teach kids how to snorkel.
At all these places you will find PADI-certified dive instructors and suppliers, including many with heavy equipment and their own boats.
Diving in Safety
It is a good idea to invest in travel insurance, because you never know what could happen, and when you might need it.  Look for travel insurance that offers worldwide coverage for scuba diving up to 50 metres deep, as well as snorkelling and many more water activities.
If you are unfortunate enough to get the bends, the only decompression chamber on Bali is at the Sanglah Public Hospital in Denpasar. Always dive with a buddy. One of you might need the other.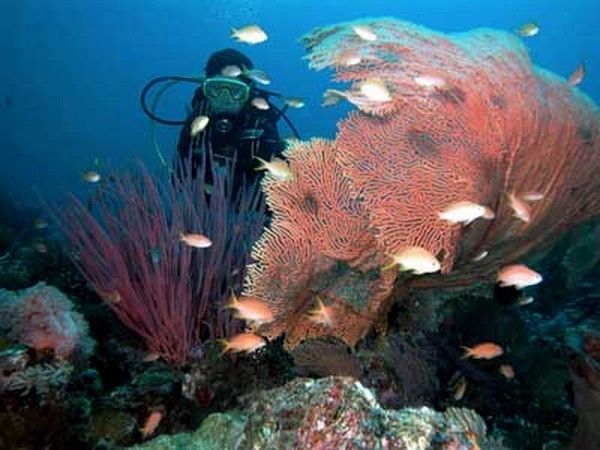 Where to Stay
 If you are in Bali mainly for scuba diving and you want to see big fishes, plan a stay-over in Sanur. It is a bit more expensive than the west coast, but if you want to dive Nusa Penida it is the best place to get a boat to your dive site. Fast boats take 20 minutes outward.
If you are on a tight budget there are many "homestays" or B&Bs for IDR125,000-200,000 per night, with breakfast. There are also peaceful places to stay over in Padang Bai on the east coast. Have a look at Bloo Lagoon next to Padangbai or Matahari at Tulamben on this website. Both offer deals which include hire of equipment, and they have their own boats. You and your dive buddies can also stay overnight on Nusa Lembongan Island, in thatched accommodation with atmosphere - lots of atmosphere. You can stay 5-Star too, if you inclined that way. No cars or buses, only buzz-bikes or one horse power.
Plan on paying an average price of USD20 per day for a shore dive with diving gear; up to USD50 per dive, inclusive of lunch, equipment rental and the ride there and back. There is usually a cooler box of drinks and water on board.
There are lots of online learning options for beginner or advanced courses; study at home and come dive in Bali! You will have the time of your life.
For up-to-date news and spectacular underwater photos and videos, see www.divezone.net