Shopping in Bali
Adventure
Due to large number of viewers looking up Shopping on our website, we asked Dawn for her opinion.
Our Top Experiences and Tours in Bali:
If youʻre booking your trip to Bali last minute, we have you covered. Below are some of the top tours and experiences!

I came to teach English for a year in #Bali. So I've experienced being a tourist in Bali, and being an ex-pat worker watching prices. Here are some ideas about #Shopping in #Bali.

Your money goes a very long way in Bali. In fact of all the countries I've visited (including Africa, India, Thailand, Malaysia and South America) Bali is by far the cheapest place I have ever been.

Advice I wish I'd received BEFORE coming to Bali: DO NOT BRING ANYTHING.

Not even a suitcase! Everything here is ridiculously cheap. Bring one set of clothes (You'll already be wearing those on the plane!) prescription medication, an Indonesian phrase book, insect repellent, an umbrella, a yoga mat, electric adapter plugs (2 round pins), comfortable sandals, and clothes only if you're not an average size.

I speak for women here; however I have seen an array of men's clothes too, so I assume the same goes for you guys. If you're smaller or larger than average size, you can still get cheap clothes, but you would get them made for you as opposed to buying off the peg, and for about the same price. Good quality branded toiletries are also very cheap, or you can buy Balinese toiletries just for something different.

So reduce your carbon footprint and know that you can shop 'til you drop. In fact I wonder why the airlines and holiday companies don't add this to their list of Bali do's and don'ts.

However, if you do want to bring clothes, make sure they're cotton. Anything else and you'll be sweating like a racehorse!

Next… get ready to bargain! It's part of the deal here, and part of the fun too. Just be brave, and treat it like a game. Saying that, you should only venture into a transaction if you're really interested in buying the item. No-one likes a tease!

When you've seen an item, or if staying in Kuta, been badgered into looking at something, and you've decided you like it, you've got to think about your price. If you don't want to bargain and you're happy with the price quoted, just pay it. Many years ago I was in Egypt and a lady said to me that she wasn't sure if she'd overpaid for something. I said as long as she was happy with what she'd paid, then she hadn't overpaid. That said, bargaining in Egypt was a mission; in Bali it's fun.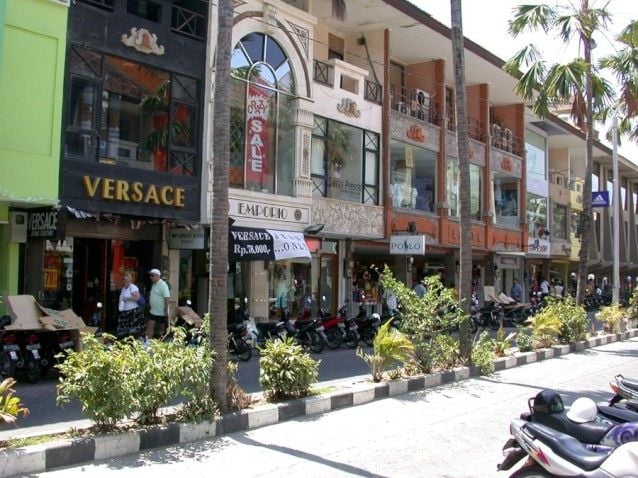 If you'd like a rough idea of what to pay before you start bargaining, take a trip to Hardy's in Sanur (Jl. Danau Tamblingan). It's a department store with fixed price items for sale. However I always pay the small shops and market stalls more than I'll pay in Hardy's because I'd rather support the locals. And Rp.10,000 is nothing to me, but a lot to the Balinese who are trying to scrape a living from a much reduced tourist trade. Just remember that you're dealing with human beings: human beings who have a lot less than you, and always will.  Get pleasure from enhancing their lives by buying their goodies. Oh and if you forget to bring your Indonesian phrase book with you, there's a good book shop inside Hardy's where you can buy one.
Carrefour (Sunset Road, Kuta) is also a great place to shop if you don't want to bargain. I go here for my Revitalift face creams. A jar of night cream for Rp.100,000 is a fraction of the price I pay in England. Ditto Complete contact lens solution: 350ml for Rp.50,000.
As I knew I'd be staying here long-term I wanted to make myself a home and fluff my little nest (kosan). I needed kitchen equipment, bedding, a fan etc.
For a fantastic range of home wares, including yoga mats, camping gear, tables, chairs, light bulbs and cooking utensils, ACE is a great place to shop.  They have a few stores in Bali. I went to the branch in Kuta that's tucked right at the back of Central Park shopping, where many bemos park. From the main road (Jl. Raya Kuta) just keep following the road round in a big circle. You'll pass apartments and hotels, and after about 10 minutes you'll arrive at the air conditioned store. It has 3 levels, and as hardware stores are oddly one of my favourite kinds of store, I had a great time just wandering up and down the aisles oohing and aahing at the amazingly cheap items for sale.
Another place I shopped for home wares was Carrefour (Carrefour.co.id). They have 3 stores in Bali. I went to the hypermarket on Sunset Road, Kuta, just further along from the Bali Shell Museum. It's a slow ride up several travelators to the top floor but if you get peckish on route, the food hall is great. MM Juice sell a delicious mango juice which is 100% fresh mango juiced before your very own eyes. A fresh juice and a steaming plate of delicious nasi goreng will set you back Rp.50,000. For added adventure, just pick something randomly off the menu - it's a fun way to try new dishes, and you can always ask for it to be not spicy (tidak pedas), although so far I've found most food to be spicy but not hot. See more about restaurants in my other article.

Carrefour is a great place for electrical items. You can get a rice cooker for Rp.200,000, a fridge/freezer for Rp. 900,000, a standard fan (one that stands on the floor) for Rp.150,000 and anything else you can think of at a bargain price!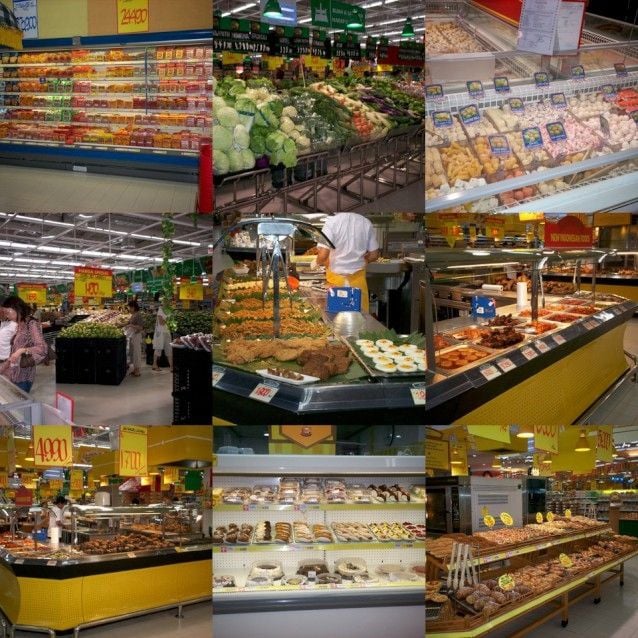 If like me you'll be staying in Bali a long time, I'd recommend checking out the prices at both stores first. Especially as both were having sales when I was setting up home at the end of December.
I also bought a beautiful handmade lamp which was carved from iron from Cahaya Lamp Art. The lamps range in size and shape, but expect to pay Rp.300,000 for one that's 80cm high, or Rp.700,000 for a GIANT lamp that's  150cm high. They're very light so you could definitely take one home with you as a souvenir. Cahaya Lamp Art is further along the main road from ACE, which takes you in to Kuta. It's on that same side of the road too (Jl. Patih Jelantik, Legian, Kuta)  0821 4702 9889). Sayful closes his shutters when it's raining heavily, and pops up the road for a drink, so do call him if you get there and he's closed.
Between ACE and the lamp shop is one of the best warungs I've eaten in. A warung is where locals eat out, so prepare to be pleasantly surprised at the prices.
Suitcases can be purchased in Carrefour, ACE and probably elsewhere too. If you own a suitcase, bring it empty. If you were on the lookout for a new one, get it in Bali. Prices range, but even the giant fancy hardshell ones at ACE are only Rp.2 million.  Regular fabric suitcases can be bought in Carrefour for 400,000. I've not researched suitcase prices extensively as I came fully loaded, but you can probably get them even cheaper than that by bargaining in the little shops.  Just remember that you want it to last more than one trip.
Yoga mats are not cheap or readily available in the Kuta area. If you plan to do a lot of yoga, bring your own mat with you or expect to pay Rp.200,000 for a nice thick mat. ACE had the only selection I could find in the Kuta area (Rp. 135,000 and up), but there is a yoga mat shop on the outskirts of Sanur. If you've booked on a yoga holiday just check that the mat is supplied.
A brightly coloured cotton dress will cost you from Rp.60,000. Cotton bags range from Rp.30,000.
Happy Shopping!
Thanks to Dawn Bradley for her views.