7 Selected North Bali Hotels
Adventure
We enjoyed a variety of interesting accommodation and activities.
Our Top Experiences and Tours in Bali:
If youʻre booking your trip to Bali last minute, we have you covered. Below are some of the top tours and experiences!

Here are 7 quite different hotels in North Bali, known locally as Buleleng.

Adirama Beach Hotel Lovina - Absolute Beachfront  ****.*

 

Adirama Beach Hotel

can be classed as a "Family Hotel" in the true sense of the word. It was rescued from an abandoned state after the Bali bombings of 2002 by Hollander Ruud van Ginkel and brought back to life with an enthusiastic team, most of whom have been with Adirama since it was re-opened. Then there is a great family atmosphere at the restaurant and around the pool. The hotel is almost full most months due to returning guests who have had a good time on their last visit(s).

 

The hotel rooms are on 2 levels in 2 blocks. The delightful restaurant directly overlooks the ocean and the old pier where VOC ships used to moor. Dolphin viewing trips leave from the beach daily, and there is a range of diving options available via the concierge, as well as tours of local attractions.

 

The inviting pool is a central meeting place for families when not at the restaurant, on the beach or on an organized tour or fishing trip.

 

Raja Suite at Adirama Beach Hotel consists of the seaside view and the mountain-view. When rented out to 2 people they will have access to the seaside part of this suite; when it is rented out to 4 people they will have complete access.

 

Rates: 1 April 2015 – 31 March 2016:  4 people – IDR. 2.184.000.  2 people – IDR. 1.521.000.

 

Seaside Suite has two bedrooms, a master bedroom with king size double bed and a second bedroom with twin beds. From: IDR 1.404.000 per night.

 

Family Room is suitable for up to 4 people. The master bedroom has a king size double bed. The second bedroom has two single beds. There is a living area with seats and a large private beachfront veranda with panoramic sea view.

 

Superior Room is suitable for up to 3 people and is available in two styles, Bamboo or Javanese style.

 

Adirama Villa - IDR 1.560.000 per day

 

A beautiful two bedroom villa in a quiet location near green rice fields, not far from Adirama Beach Hotel and the centre of Lovina.

 

Set in a beautiful tropical garden with private swimming pool and adjacent Balé, a traditional Balinese pavilion.

 

Rates 1 April 2015 – 31 March 2016

 

IDR 1.400.000 Â  (low season) | IDR 1.638.000 Â  (high season) per day (minimum stay 3 nights). Weekly, monthly and quarterly rates available.

 

Adirama Restaurant

 

All food at Adirama Restaurant is carefully selected and always fresh: juicy steaks, healthy salads, delicious vegetables, grilled satays, excellent schnitzels. The list goes on. Fresh fish can be ordered in advance or your own catch can be prepared for you.

 

Adirama restaurant also has good Balinese and Australian wines! Balinese dancing and music by the cheerful "Staff Band" are provided on certain nights.

 

Adirama Beach Hotel, Jl. Raya Singaraja-Seririt, Lovina, Kalisem, Bali 81152.    Phone: +62.362.41759. Fax: +62.362.41769. Mob  : 081 337 744 555.   Res: info@adiramabeachhotel.com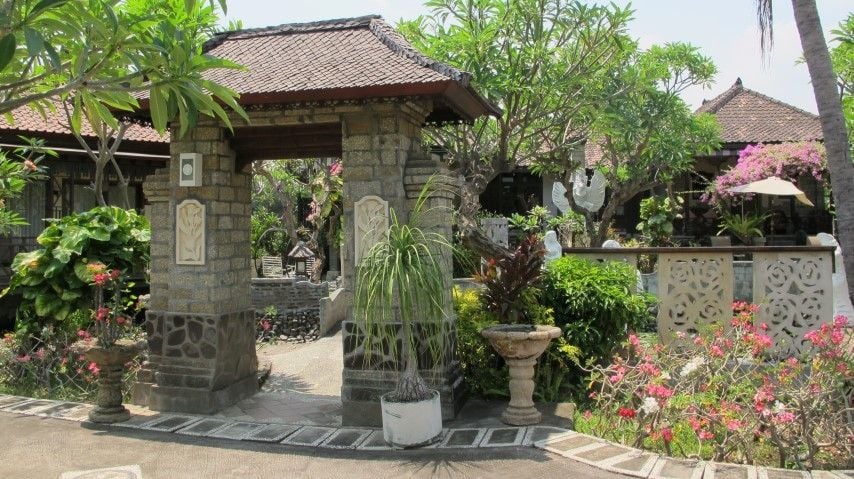 Melka Excelsior Dolphin Hotel Resort ***
Most people who visit Lovina go out at least once in a jukung outrigger to watch the dolphins at play. However, Melka Excelsior at Kalibukbuk, Lovina, invites guests to a once-in-a-lifetime experience – swimming and interacting with dolphins Rambo, Dewa, John, Rocky and Gombloh in 3 seawater regulated pools.
Dolphin Assisted Therapy is practiced at Melka, with foreign visitors bringing guests in need of healing therapy. The DAT is a recreational, motivational and educational programme for both children and adults. Melka specialists are well equipped with plenty of experience and attention to detail. Â 
However, not all guests visiting Melka are seeking therapy; most just want a good holiday experience.
Rooms
15 Deluxe Rooms – 29 Dolphin Suites – 2   Pool Access Suites – 2   Presidential Suites                   
Facilities: Swimming pool at Restaurant, Dolphin pools, Mini-zoo, well-equipped Childrens' Playroom.
Meeting rooms: Saraswati Room: 22m x 10m and Ganesha Ballroom: 48m x 17m
Access to the beach is via a side gate and down a lane lined with restaurants and warungs. Walking time about 4 minutes.
Melka Excelsior Dolphin Hotel Resort, Jl. Raya Kalibukbuk Lovina, Bali, Indonesia
Ph: +62.362.41562 & Ph: +62.362.41552 | Fax: +62.362.41543 | HP: 08179724593Â Â  reservation@melkahotelbali.com
Aditya Beach Resort Lovina   -  Absolute Beachfront.   ****           
Aditya Beach Resort, with its colourful gardens, is a spacious Balinese-styled park hotel, on Lovina Beach, North Bali. Its 17 Deluxe Seaside Cottages have private verandas looking onto large lawns and tropical flower gardens or the sea.
25 Superior Garden rooms with private verandas. 
13 Superior rooms. 
9 Standard rooms. 
The large restaurant is always busy serving buffet style meals for residents and tour groups as well as an a la carte menu and room service. The swimming pool, with sunken bar, is a popular meeting place for guests. 
Daily dolphin viewing is available, with boats departing at 06:00 am – 08:00 am from the beach in front of the hotel. .
Aditya Beach Resort, Jl. Raya Lovina, Lovina Beach, Buleleng, Bali– Indonesia.  Tel: (62-362) 41059, Fax: (62-362) 41342.  Email: info@adityalovinabali.com
Bali Taman Resort and Spa   ***.*   Absolute Beachfront.           
 
Bali Taman Resort, one of the finest resort hotels in North Bali, is situated right on Lovina Beach. Here you can enjoy tranquil waters and a quiet and unhurried pace. Besides an older block of single rooms, there is a selection of bungalows in Balinese architecture set in meticulously manicured gardens, representing a natural Balinese village. Each bungalow is entered via a bougainvillea pergola in stunning colours. Each bungalow has its own private balcony with leisure chairs and coffee table.
 
Accommodation
 
Family Suite Ocean View, Super Deluxe Room, Standard Room 
 
The Restaurant is a grand Balinese style pavilion which presents wonderful views over the ocean, pool and beautiful gardens.
 
Hotel facilities
 
Swimming pools, adult and junior * Bar and Restaurant with Ocean view * Open sky stage with BBQ area for 150 people * Tennis court * Internet Wi-Fi * Tour service around North Bali.
 
Meeting Facilities
 
Housed in its own specially-designed building, the Meeting Hall provides a flexible venue for functions. The upper level can accommodate up to 200 people theater style and for break-out sessions, a spacious air-conditioned lounge area on the ground floor makes an ideal gathering place.
 
Teratai Spa
 
Immerse yourself and relax in style with a healing session at the Teratai Bali Taman Spa. Â  Â  Â  Â  Â  Â  Â  Â  Â  Â  Â  Â  Â  Â  Â  Â  Â Â 
Bali Taman Hotel, Jalan Raya Lovina, Lovina Beach, North Bali - Indonesia. Â  Ph: (+62-362) 41126 Â  Â  Â  Fax: (+62-362) 41840 Â  Â  Â  info@balitamanlovina.com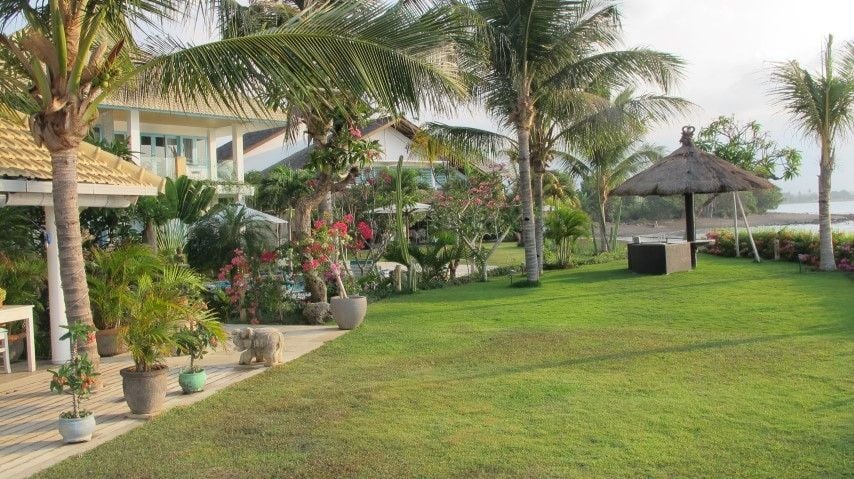 Mayo Resort – Seririt – North Bali Boutique Resort.  ****
Mayo Resort is unique, a quiet little retreat for those seeking peace and tranquility, a beachfront resort with limited luxury accommodation. This is a get-away-from-it-all kind of place, ideal for honeymooners, and for a truly relaxing holiday or short break. The onsite restaurant offers a spectacular but practical location for weddings, family gatherings, private celebrations or corporate functions. Seating can be provided for up to 40 Â guests.
On the north coast of Bali, only 20 minutes from Lovina and 45 minutes from Pemuteran and Menjangan, Bali's premier diving destinations, and the West Bali National Park. Mayo Resort is just west of the town centre of Seririt.
Only the coral reefs and a headland of beach lie between you and the azure blue of the sea. With a shoreline stretching the entire length of the property, you will enjoy an intimate connection with the water. Because of the "rain shadow", Mayo Resort enjoys an unusually sunny and dry microclimate, tempered by the cool sea breezes.
The sunsets are themselves good reason to be here; each day at Mayo you will be witness to a ritual that begins when the sun has fallen low enough to reflect off the sea and create a shimmering light that will raise your spirits and enhance your well-being, until the fiery red disc sinks below the horizon, the volcanos of East Java and the rolling hills of West Bali in the far distance.
Accommodation comprises 4 spacious, well-appointed studio rooms, each with balcony overlooking the generous pool (12m x 6m) set in lush gardens; a family apartment and a 2-bedroom villa in its own private setting. All rooms have unobstructed panoramic ocean views, and all have sufficient space for an additional bed if needed. Simply unpack, lie back and relax.
Activities in the Area
Swimming, beach-combing, snorkeling, diving, dolphin watching, fishing. Visit temples, hot springs, waterfalls. Go hiking, mountain biking or play golf. Indulge in spa and massage, practice yoga and meditation. Engage with the local community through agro-tourism (coffee, cocoa, cloves, vineyards) or experience Bali culture, learning traditional dancing, local cuisine or making handicrafts.
High-speed complimentary broadband WiFi access throughout the Resort.
Satellite TV with international stations and DVD player in all rooms.
Rates for 2015 are:
Studios: IDR 800,000 ++Â  About US$70 nett
2-Bedroom Family Apartment   IDR 1,400,000 ++  About US$120 nett
Location: North Bali (Latitude 8.204 S; Longitude 114.908 E)
Address: 3 Jalan Desa Umeanyar, Kundalini, Umeanyar, near Seririt, Buleleng Regency, 81153 Bali.  Tel: +62 (0) 811 380-0500 or 0811 385 2322.  Email: gm@mayoresort.com / mayoresort@gmail.com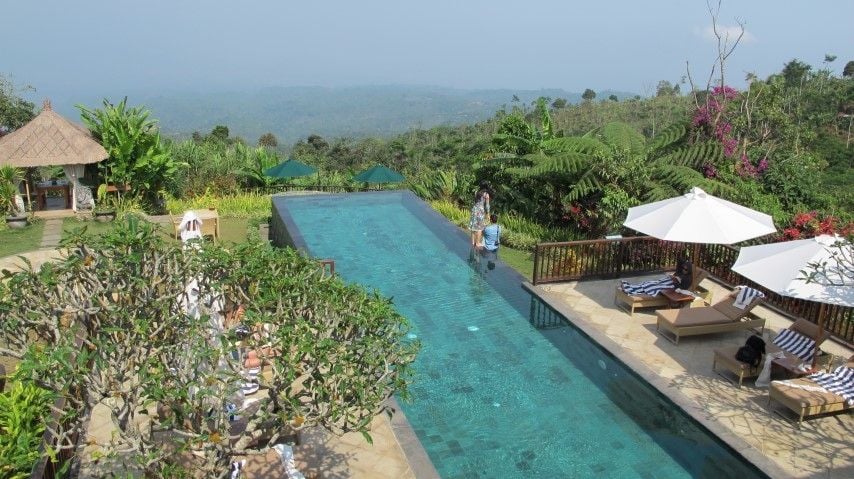 In the Mountains of North Bali
Munduk Moding Plantation – Munduk-Gobleg
Here's a chance to enjoy the unspoiled natural beauty of North Bali mountains in unparalleled luxury and privacy.
Munduk Moding Coffee Plantation Nature Resort and Spa is a luxury boutique spa resort, the only hotel in Bali situated on a working coffee plantation. It is close to Bali's central Lakes Buyan and Tamblingan and Munduk Hill Station. The hillsides are covered with jungle, coffee trees, clove bushes, hydrangeas and orchids. Taking one of a handful of villas and suites on 5 hectares of land, you can enjoy all this in privacy and genuinely relax far away from the crowds.
Enjoy the cool mountain air, spectacular sunsets and stunning panoramas of the rice fields and rainforest. 
Accommodation: 17 Exclusive Villas: One bedroom pool villa ($379), Two bedroom pool villa ($749), Two bedroom coffee villa ($399), Four bedroom pool villa ($1499),  Garden suites ($199).
Restaurant: With 6 chefs and attentive staff, dining at Munduk Moding Planation is an experience in itself. Presentation is spectacular and the food is a gourmet delight.
The Munduk Moding Plantation Spa offers a range of massages and treatments.
As for the Infinity Pool – don't leave your camera behind. Besides the cool water, this spot is a photographer's dream. Delight in the jacuzzi, just below the pool.
Munduk Moding Plantation, Br. Dinas Asa, Desa Gobleg, Kec. Banjar, Buleleng, Bali 81162 Indonesia. Â Tel: +62 362 7005321Â Â  Mobile: +62 81 138 10123. Â Email : sales@mundukmodingplantation.com
Strawberry Hill Hotel -Â  Bedugul, Bali
Come up and enjoy the cool air of Bali's central mountains, where a real Bali welcome awaits you at Strawberry Hill Hotel, Bedugul. Accommodation comes in the form of cabins incorporating features of a typical Indonesian mountain-style residence: wooden floors and wood-clad walls. Each of the 17 cabins is named after a mountain in Indonesia. All offer a comfortable, cozy interior, a balcony overlooking a variety of colourful plants from temperate climes, and an en-suite bathroom with shower and separate bathtub. Each cabin has a telephone, a TV and Wifi and bunk beds for 2 or 4 additional family members.
Strawberry Hill Restaurant presents Western and Indonesian fare as well as home-made soups, salads from produce grown just minutes away in North Bali's vegetable gardens. On cool evenings diners can draw up to a real log fire next to the English style pub. 
Plenty to see and do around Bedugul, en route between the north and south coasts. Visit Ulun Danu Temple on the shores of Lake Bretan, the other crater lakes, Buyan and Tamblingan, the colourful fruit, vegetables and flowers in Candikuning Market, and the Botanical Gardens of Eka Karya. Younger ones can try playing Tarzan at Treetops, trek through forests or ride a mountain bike in the hills. For golfers, there is the beautiful Handara 18 hole golf course. 
Strawberry Hill Hotel, Jl. Raya Denpasar-Singaraja Km. 48, Bedugul, Tabanan 82191 Bali, Indonesia
Tel. (62 368) 21265| Fax. (62 368) 21442 | Email info@strawberryhillbali.com