New Eco-Retreat in Bali
Arts & Culture
The "Floating Leaf" roof draws one in to see more of this unique design.
Our Top Experiences and Tours in Bali:
If youʻre booking your trip to Bali last minute, we have you covered. Below are some of the top tours and experiences!

The most innovative eco-retreat in Indonesia has recently opened in Bali and the word is spreading quickly. Praise and kudos are rolling in from across the globe for the true environmental initiatives in use by the Bali property. Located not far from the beach in Sukawati on Bali's South-East coast, Floating Leaf Eco-Retreat offers six luxury villa bedrooms, 2 spas, a massive yoga hall, healthy restaurant and what is called "The Ultimate Relaxation Pool".

Great care has been taken in the planning and construction of Floating Leaf to ensure that sustainable and eco-friendly products were used whenever possible.

Bamboo is one of the most commonly used materials in Floating Leaf as it is recognized as one of the most sustainable products on the planet. The railings are artistically carved 100% bamboo, as are some of the furniture, the bridges, flooring, door handles, and even the drinking straws. All bear the obvious styling of "Made in Bali", carefully selected by Michael and his Balinese wife Putu.

Many of the colourful chairs, stools, cabinets, tables and benches are made from old jukungs, fishing boats that are no longer seaworthy. They have been made into useful utilitarian objects and given a new life.

Floating Leaf is proud to be an eco-friendly hotel. They sincerely care for the environment, the local community, and preserving the unique Balinese heritage. Their mission is to be an exemplary model for sustainable living without sacrificing luxury, style, function, design or technology.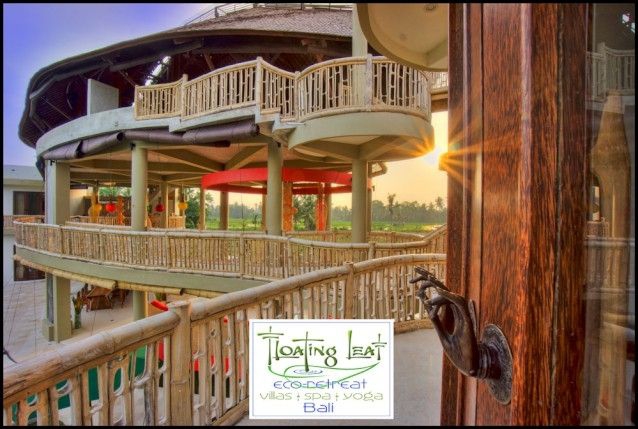 At Floating Leaf, the owners strive to maintain the highest standards of excellence and seek to empower staff and guests alike to facilitate their full contribution to the environment and society in which they live and travel. That's why they have a proactive environmental policy, train their teams in 'green' thinking and encourage the guests to be as 'green' as possible.
For modern travel accommodation, being a true eco-hotel involves much more than the obvious energy saving measures and having no-smoking rooms. Here's a taste of how Floating Leaf provides genuine eco-accommodations:
Environmentally friendly towel and sheet re-use program
Volatile organic compound (VOC)-free cotton towels and sheets – for better air quality and the luxury feel
Allergy awareness when choosing furnishings and cleaning materials
Rainwater harvesting system
Bulk dispensers for soap and other consumables – reduces wasteful packaging
Hotel recycling bins make recycling easy and convenient for everybody.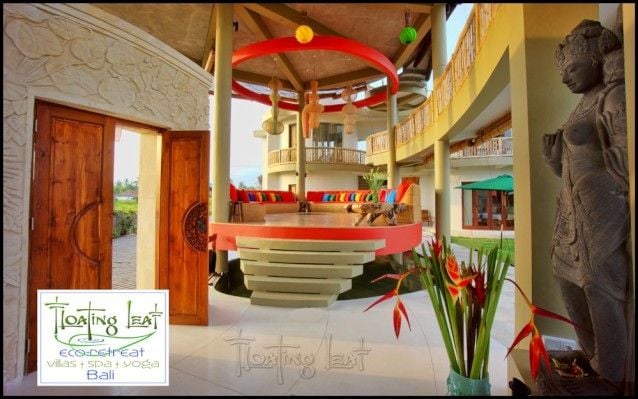 If you are interested in making your next vacation a true eco-friendly experience while luxuriating in first class accommodations, spa and wellness facilities, consider Floating Leaf Eco-Retreat in Bali. They have been leading authentic cultural tours of Bali for over seven years and they can craft a custom itinerary just for you as well. Get the best images of your holiday experience by taking advantage of the non-invasive oversight of an expert in photography, winner of Best Travel Photographer of the Year.
Guest comments here.
~~~~~~~~~~~~~~~~~~~~~~~~~~~~~~~~~~~~~~~
Prof. Michael Doliveck ~ Owner
Floating Leaf Eco-Retreat ~ Villas, Spa, Yoga, Organic Cafe
m@BaliFloatingLeaf.com ~ BaliFloatingLeaf.com
Address: Jl Pantai Purnama 42, Ketewel, Bali 80582, Indonesia
Phone USA (805) 242-2544
(805) 242-2544
(805) 242-2544
(805) 242-2544 ~ Phone Indonesia +62 361 8786730