Day Trip to North Bali
Inspiration
This area of old Bali is so cool and laid-back that you may want to stay over or come back again
Our Top Experiences and Tours in Bali:
If youʻre booking your trip to Bali last minute, we have you covered. Below are some of the top tours and experiences!

During your Bali holiday, you may want to get away from the busy south and head up north through the stunning mountain scenery. It is recommended to hire a car with driver at about IDR500,000 for the day. After leaving suburbia, you will travel through miles of rice paddies bordered by tall coconut palms. Then suddenly the scenery changes and you arrive at Bedugul, 1,500 metres above sea level.

The markets of Bedugul and Candikuning offer a great seasonal range of Bali's fruit and vegetables, all grown in the area. The alluring smells may tempt you to buy some, but be prepared to bargain down from the tourist price, or tell your driver what you want and get him to buy it for you. Once a final price is agreed, you pay.

These towns are close to the beautiful Danu Beratan lake with its Ulun Danu Temple, one of Bali's most iconic photo locations. Stop here and pay the small entrance fee, well worth it for a visit to the immaculately kept gardens and pathways surrounding the lakeside temple buildings. You may want to take a boat ride on the lake to view the mountains and forests around you. Do not try to enter the actual temple though, especially when a ceremony is in progress. The wall is low enough to look over.

Make an effort to visit the Bali Bedugul Botanical Garden or Kebun Raya Eka Karya, the largest tropical garden in Bali. It's atmosphere is cool, with rain forest and hill scenery all around.  The 150ha of parkland contains more than 1187 plant types. Exotic trees come from North and South America, China, Japan, Australia, Africa and The Netherlands. Some 524 of the original forest's birch trees still remain.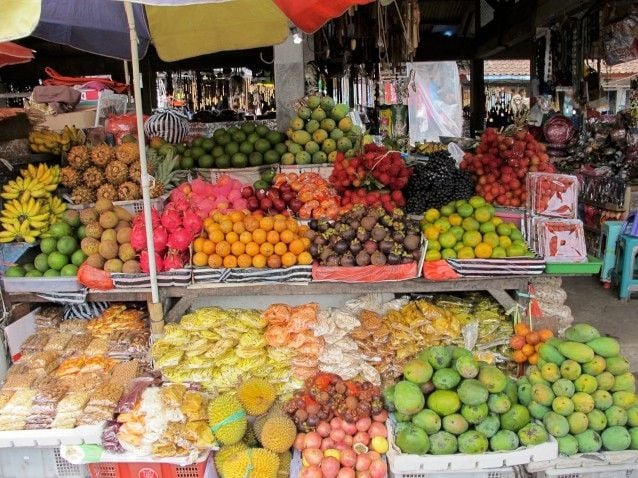 There is an orchid collection consisting of 320 species from Bali, Java, Nusa Tenggara Timur, Sulawesi and Irian Jaya in West Papua. There is also a superb collection of roses. The cactus collection includes 104 different types. There are 94 plants used in Balinese temple ceremonies or as devotional offerings. The drug plant collection includes 84 species.
For the adventurous, there is Treetops, a Tarzan-style series of slides and climbs, high up in the trees. Safety harnesses are compulsory.  Golfers, note the situation of Handara Kosaida Golf Course just past the lake on the right side. This is the coolest golf course in Bali, set out in a caldera or old volcano crater. You may want to come back and play some rounds. They have lodgings on site for very keen 2-day players.
As your car ascends the mountain after all this, you will spot Danau Buyan on your left, and on a clear day also Lake Tamblingan. You are now surrounded by rain forest, cocoa, coffee and spice plantations. Soon you reach the turn-offs to Gitgit Waterfalls. You can stop at either of the levels, as there is more than one waterfall. You will be offered a guide, but you are allowed to make the trip without one. Just be warned, only those with no leg problems should attempt the tour - but it is well worth the effort. Allow a few hours here. Entrance fee: IDR5,000 per person.
Soon after Gitgit you suddenly come out of the forest; there before your eyes is the ocean, and Singaraja. Two things you will notice in Singaraja: the trees along the roadsides, and the smaller numbers of buzz-bikes than down south. This place is truly laid back.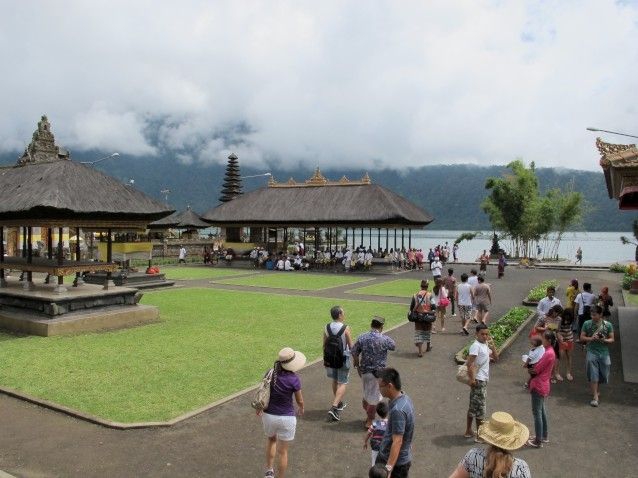 Singaraja is the old colonial capital of Bali, and the capital of the Regency of Buleleng. It is, quite simply,  cool. Figuratively and literally. Much cooler in temperature than South Bali. It is a city of wide streets and lots of friendly folks. The main shopping area is on Jalan Diponegoro and Jalan A. Yani. Visit the old Dutch harbour and old warehouses, and sample the area's good restaurants.
On the eastern side of Puputan Square is the Museum Bali, erected in 1932 by the Dutch. It is an attempt to present a historical account of Balinese culture. Housed in Tabanan, Karangasem and Buleleng styles of architecture, the museum illustrates the two types of construction in Bali: temples and palaces. The split gate, outer and inner courtyards, and kul kul drum typify the temple. The thatched roofs, ornate windows and verandahs characterise the palace. The main two-storey building, located at the back of the entrance courtyard, houses traditional artifacts from Bali's prehistory, including a massive stone sarcophagus.
The museum is open Tuesday to Thursday 7.30am - 1.30pm; Friday 7.30am- 11.30am; Saturday to Sunday 8am - 12pm. Closed Monday.
In addition to its Dutch heritage, there are remnants of Chinese and Muslim influence in Singaraja. The descendants of the Chinese, Arab and Bugis settlers still live in the harbour district, in areas nicknamed Kampong Arab and Kampong Bugis.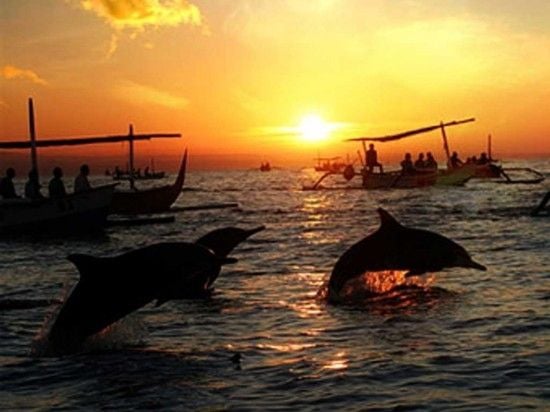 A beautiful Chinese temple (klenteng) named Ling Gwan Kion can be found just off the Jalan Erlangga, in the harbour district. This is one of the few Chinese temples on Bali. Built in 1873, it is accessed via a bridge over a lotus pond, and houses magnificent golden Buddha statues.
Also worth a visit is the unique Lontar Museum annex library, the "Gedong Kirtya", at Jalan Veteran. The Gedong Kirtya collects, copies and preserves thousands of "lontar" (manuscripts made of palm leaf), "prasati" (transcriptions on metal plates) and books that deal with various aspects of human life, such as religion, architecture, philosophy, genealogy, homeopathy, "usada" (medical manuscripts) and black magic. Books are in Balinese and Kawi (old Javanese), as well as Dutch, English and German.
The Royal Palace of Singaraja "Puri Agung Buleleng" is located close to the Lontar Library, at Jalan Mayor Metra. Here visitors can view a number of pictures of Rajas (Kings) of Buleleng, in the old house where the Raja and his family used to live.
Now head west to Lovina Beach, which is actually a collection of three villages (Kalibukbuk, Anturan, and Tukadmungga) lumped together under the general name. Here people rise at 6 a.m. to sail out and play with the dolphins. The area is home to a number of small hotels and restaurants.
Seririt is a sleepy old market town and the former commercial centre of Buleleng, located about 16 km west of Singaraja near the villages of Banjar and Dencarik. Seririt lies at a T-junction, with Pemuteran and Gilimanuk to the west, Lovina-Singaraja to the east and Pupuan-Tabanan to the south.
Banjar Hot Spring is a natural hot-water resort, 24 km from Singaraja. Its waters are said to be suitable for healing skin deseases and rheumatism. 
Head back south via Munduk, accessed through a couple of sleepy but tidy banjars. Munduk itself is a bit scruffy but there some neat hotels and lodgings, and the greenery is breath-taking. Stop at the sign of the waterfall just out of town - it's quite close to the road. On your right you will pass Lakes Tamblingan and Buyan before you rejoin the road south through Bedugul.
See latest update on North Bali here.  10 days up North scouting out the best places for you the visitor to wonderful Blai.